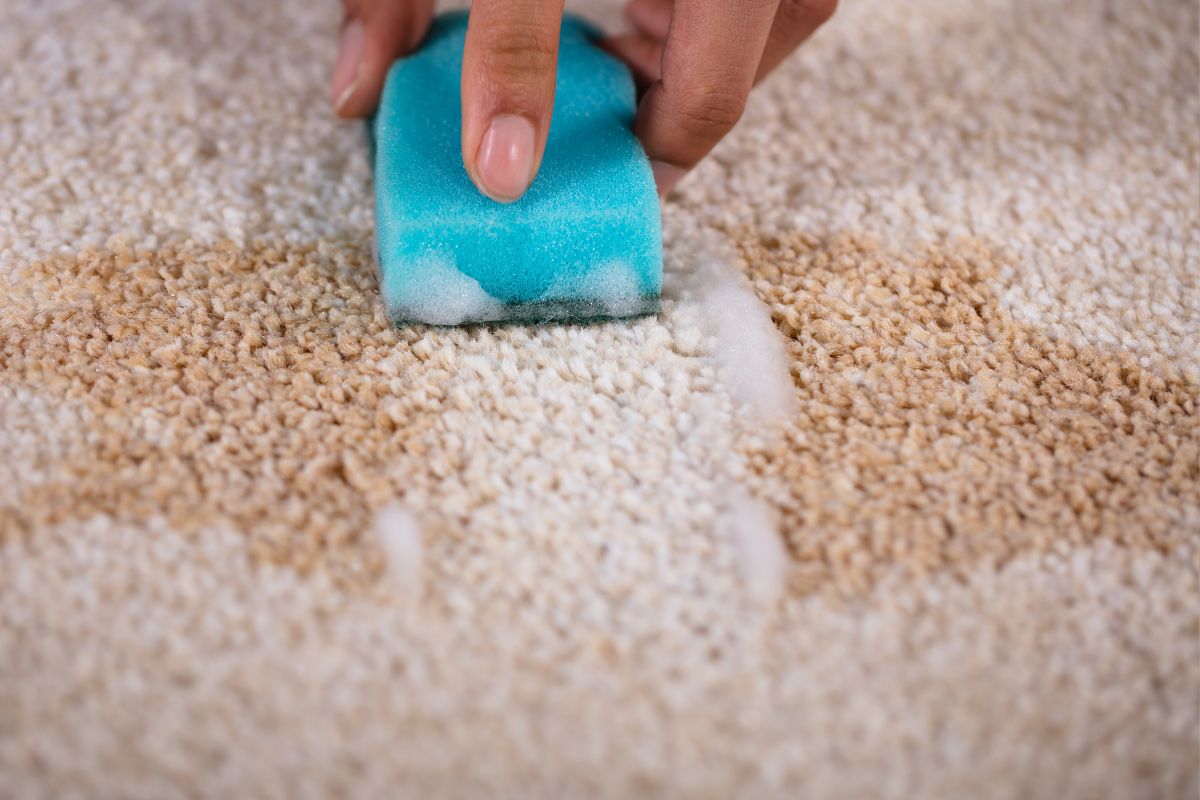 Unraveling the Secrets of Rug Longevity – Fiber Knowledge and Stain Mastery
Rugs play a pivotal role in adding warmth, color, and texture to our living spaces. Their care, therefore, is not just about cleanliness but also about preserving these qualities over time. The key to achieving this lies in a dual understanding: recognizing the types of fibers that make up your rugs and mastering the art of stain removal tailored to these fibers.
In this guide, we delve into the essential elements of rug care, emphasizing the critical nature of understanding your rug's fabric. Each fiber, whether natural or synthetic, reacts differently to stains and cleaning methods. By equipping yourself with this knowledge, you not only enhance your ability to effectively remove stains but also extend the life and beauty of your rugs.
As we explore the intricacies of rug fibers and the science behind stain removal, our goal is to provide you with practical, easy-to-understand insights. This isn't just about cleaning; it's about nurturing and protecting an integral part of your home décor. Join us as we uncover the best practices in rug stain removal, ensuring your rugs remain a source of pride and comfort in your home for years to come.
Understanding Rug Fibers: The Foundation of Effective Stain Removal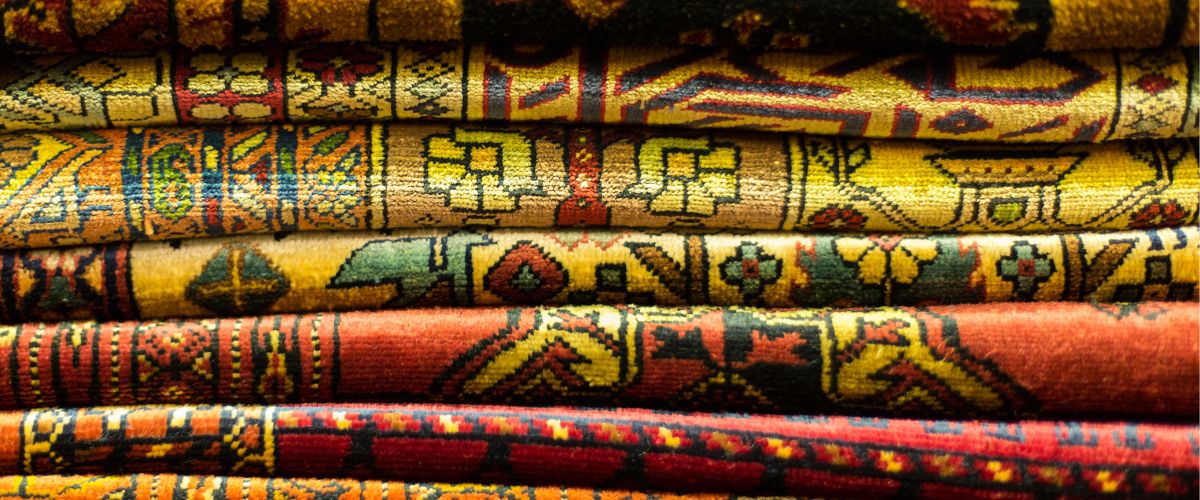 Rug fibers are the foundational elements that dictate not only the appearance and feel of your rugs but also their interaction with stains and cleaning methods. Understanding the different types of rug fibers is like unlocking a secret code, one that reveals the most effective ways to tackle stains and maintain rug quality.
Types of Rug Fibers: A Diverse Palette
Rugs come in a variety of materials, each with its own unique characteristics:
Wool: Renowned for its durability and softness, wool rugs are a popular choice for their natural resistance to stains and dirt. However, they require careful handling as they are susceptible to shrinking and distortion when exposed to excessive moisture or harsh chemicals.
Silk: The epitome of luxury, silk rugs boast a high sheen and fine texture. They are delicate, though, and prone to damage from harsh cleaning agents. Silk rugs demand gentle care and are often best left to professional cleaners.
Synthetic Fibers (Nylon, Polyester, Polypropylene): These man-made fibers offer high durability and stain resistance, often at a more affordable price point. They are easier to clean and maintain, making them a practical choice for high-traffic areas or homes with pets and children.
Natural Plant Fibers (Jute, Sisal, Seagrass): These eco-friendly options bring a rustic charm to any space. They are generally less resistant to stains and require prompt and careful cleaning to avoid damage.
Characteristics of Different Fibers: Durability and Stain Resistance
Each fiber type brings a unique set of properties that influence how it responds to stains:
Wool and Silk: These natural fibers can absorb spills quickly, making immediate action crucial. They are sensitive to pH levels and can be damaged by alkaline or acidic cleaning solutions.
Synthetic Fibers: These are more forgiving with stains and can handle a wider range of cleaning products. Their resilience makes them ideal for areas where spills are common.
Natural Plant Fibers: While they add an earthy aesthetic, they are less forgiving with stains and can be tricky to clean without causing damage or discoloration.
Understanding the types and characteristics of rug fibers is essential in choosing the right approach to stain removal. This knowledge not only ensures effective cleaning but also helps in preserving the integrity and beauty of your rugs for the long haul. As we move forward, we'll dive deeper into the science of stains and how to combat them based on these fiber types.
The Science of Staining: Decoding How Stains Interact with Rug Fibers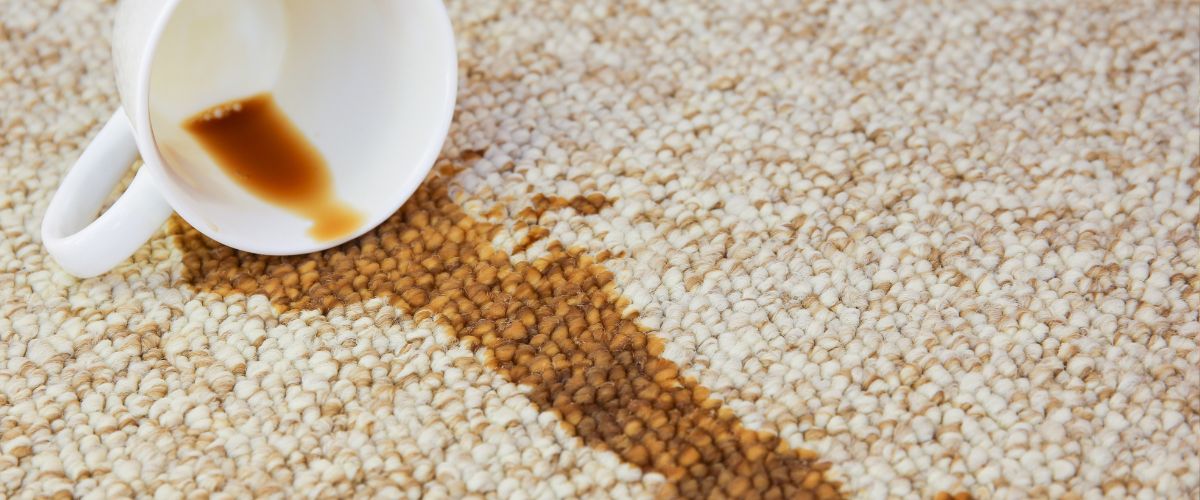 Stains, the unwelcome guests on our rugs, are not just mere spots but complex interactions at the fiber level. Understanding this interaction is pivotal in tackling them effectively. This part of our guide delves into the science behind staining, explaining how stains adhere to different rug fibers and their varied impacts.
What Causes Stains? The Bonding Process Explained
Stains form when a substance comes into contact with the rug and creates a bond with its fibers. This bond is influenced by several factors:
Chemical Reaction: Different substances have distinct chemical properties, determining how they interact with different types of fibers. For instance, acidic substances might react differently with wool compared to synthetic fibers.
Absorption and Adhesion: The ability of a rug fiber to absorb a substance contributes to staining. Porous fibers like wool can absorb spills quickly, leading to deeper stains, while synthetic fibers may offer more resistance.
Fiber Structure and Texture: The physical structure of the fibers plays a role. Smooth fibers like silk may allow some spills to slide off, while the rougher texture of natural fibers can trap liquids more easily.
Types of Stains: Classifying the Culprits
Stains can be categorized based on their source and composition, each type affecting rug fibers differently:
Stains (food, blood, pet accidents): These are common in households and can cause discoloration, especially in natural fibers. Their organic nature often requires specific enzymes for effective removal.
Chemical Stains (paint, ink): They can be stubborn, especially on delicate fibers like silk, and may require specialized cleaning solutions.
Oil-Based Stains (grease, cosmetics): These stains form strong bonds with fibers and often need solvents for removal, regardless of the fiber type.
Water-Based Stains (coffee,
Recognizing the type of stain and its interaction with your rug's fibers is crucial in choosing the correct cleaning approach. This understanding not only aids in effective stain removal but also helps in maintaining the integrity and aesthetics of your rugs. Up next, we'll explore the initial steps to take when a stain occurs, setting the stage for successful cleaning.
Stain Removal Basics: Immediate Steps and Smart Cleaning Choices
Effective stain removal begins the moment a spill occurs. Quick and appropriate action can make the difference between a temporary blemish and a permanent mark. Here's how to initiate the battle against stains smartly and effectively.
Immediate Action: Swift Steps to Mitigate Stain Damage
Blot, Don't Rub: Gently dab the stained area with a clean, absorbent cloth. Rubbing can push the stain deeper into the fibers, making it harder to remove.
Test for Colorfastness: Before applying any cleaning solution, test it on a small, inconspicuous area of the rug to ensure it doesn't cause discoloration.
Remove Excess: If the spill is solid or semi-solid, like food, carefully scoop it up with a spoon or a blunt knife, avoiding further embedding into the fibers.
Choosing the Right Cleaning Agents: Matching Cleaner to Fiber and Stain
Natural Fibers (Wool, Silk): Opt for mild, pH-neutral detergents. Harsh chemicals can damage these delicate fibers and alter their appearance.
Synthetic Fibers (Nylon, Polyester): These are more resilient and can handle a wider range of cleaning agents, including mild alkaline solutions.
Type of Stain Matters: Use enzyme-based cleaners for organic stains like food or pet accidents. Solvent-based cleaners are more effective for oil-based stains.
Understanding your rug's material and the nature of the stain is crucial in selecting the right cleaning agent. This not only ensures effective stain removal but also helps in preserving the color, texture, and longevity of your rug. Armed with these basics, you're now ready to tackle those pesky stains with confidence and care.
Dos and Don'ts of Rug Stain Removal: Best Practices and Common Pitfalls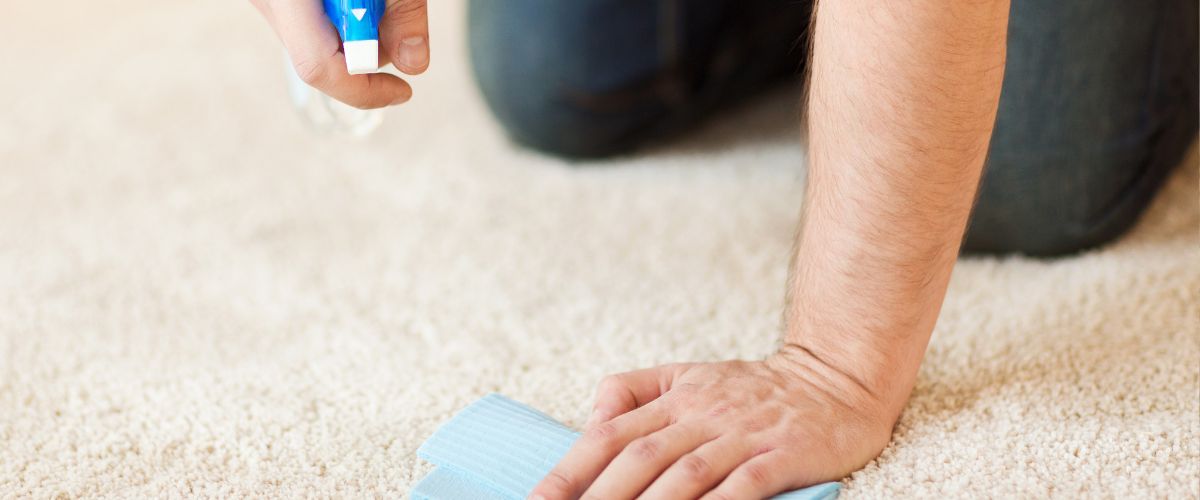 Stain removal, while seemingly straightforward, is a delicate process that requires a balance of knowledge and caution. Here are some key dos and don'ts to ensure effective and safe stain removal from your rugs.
Dos: Steps Towards Successful Stain Removal
Act Quickly: Time is of the essence. The sooner you address the stain, the higher the chances of complete removal.
Blot Gently: Always blot the stain gently with a clean, dry cloth to absorb as much of the spill as possible.
Use the Right Technique: For liquids, work from the outside in to prevent spreading the stain. For solids, gently lift away debris before cleaning.
Follow Manufacturer's Instructions: If your rug comes with care instructions, follow them to avoid damaging the fibers.
Rinse Thoroughly: After applying any cleaning solution, rinse the area with water to remove any residue, which can attract more dirt over time.
Don'ts: Common Mistakes to Avoid
Avoid Over-Wetting: Too much water can damage the rug's foundation and cause mildew growth.
Steer Clear of Harsh Chemicals: Especially on natural fibers, harsh chemicals can deteriorate the rug's texture and color.
Don't Rub Stains: Rubbing can push the stain deeper and damage the fiber.
Avoid Heat: Heat can set certain types of stains, making them nearly impossible to remove.
Don't Guess: If unsure about the appropriate cleaning method, consult a professional rather than risking further damage.
Understanding these distinctions helps in setting realistic expectations for stain removal. While removable stains require prompt and appropriate cleaning techniques, dealing with permanent stains may call for professional intervention or acceptance of the rug's new character.
Preventive Measures and Regular Care: Proactive Steps for Rug Longevity
Maintaining the beauty and longevity of your rugs doesn't just involve reacting to stains but also taking proactive measures to prevent them. Regular care tailored to the type of fiber is the cornerstone of keeping your rugs in top condition.
Tips for Preventing Stains and Preserving Rug Quality
Limit Exposure to High Traffic: Place rugs in areas less prone to spills and heavy wear. Use runners in high-traffic zones to reduce direct impact on your more delicate rugs.
Implement a No-Shoes Policy: Shoes can track in dirt and substances that may lead to stains.
Rotate Rugs Regularly: This ensures even wear and exposure, reducing the risk of concentrated staining in one area.
Use Rug Pads: Pads not only prevent slipping but also protect the rug from the hard floor surface, reducing fiber stress.
Routine Cleaning Recommendations Based on Fiber Type
Wool and Silk Rugs: Vacuum gently without a beater bar. Spot clean with mild detergent and avoid over-wetting. Professional cleaning is recommended annually.
Synthetic Fiber Rugs: These can be vacuumed more vigorously. Spot cleaning can be done with slightly stronger detergents.
Natural Plant Fiber Rugs (Jute, Sisal): Vacuum regularly to remove dirt and grit. Blot spills promptly and dry thoroughly to prevent water damage.
By integrating these preventive measures and routine care practices into your regular cleaning regimen, you can significantly extend the life and appearance of your rugs. This approach is not just about maintaining cleanliness but ensuring your rugs continue to enhance your home's ambiance for years to come.
Conclusion: Empowering Your Rug Care Journey
As we wrap up this comprehensive guide, let's revisit the essential insights for effective rug care. Remember, understanding the type of fibers in your rug is the first step in addressing stains appropriately. Quick action, the right cleaning approach, and awareness of stain types play crucial roles in successful stain removal. Be mindful of the dos and don'ts to avoid common mistakes that could damage your rug.
Professional cleaning should be considered for deep-set stains and routine deep care, particularly for delicate fibers. Incorporating preventive measures and regular maintenance routines based on fiber type will not only keep your rugs clean but also extend their lifespan.
Armed with this knowledge, you are now equipped to tackle rug stains with confidence and finesse. Remember, every stain is an opportunity to put your newfound expertise into practice, ensuring your rugs remain a vibrant and cherished part of your home for years to come.
Connect with Big Red Singapore
Your journey with rug care doesn't end here. We invite you to share your experiences or reach out for expert advice and services. Whether you have a story to tell about tackling a challenging stain or need professional assistance, Big Red Singapore is here to help.
Contact us at info@bigred.com.sg or call +65 6241 9443. Let's continue this conversation and ensure your rugs receive the best care possible. Your stories and challenges inspire us to provide better services, and we look forward to being a part of your rug care journey.