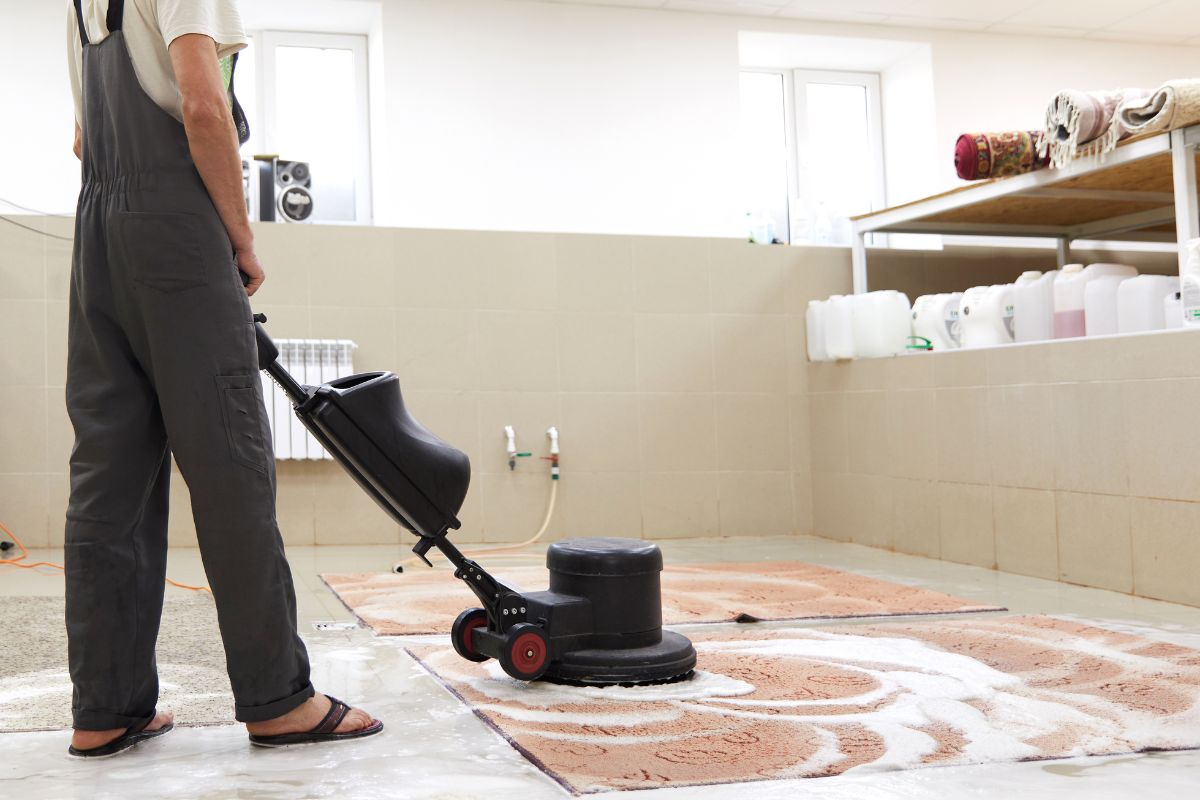 Cozy Living Redefined: Unlocking the Secret to Caring for Your Rugs
Rugs are more than just floor coverings; they are the unsung heroes of our homes, setting the tone for our living spaces and offering a sense of comfort and warmth that hard surfaces simply can't match. Whether it's a hand-woven heirloom passed down through generations or a contemporary piece that perfectly complements your modern décor, each rug tells a story and adds a unique character to your home. Their rich textures, vibrant colors, and intricate designs make them not just functional pieces, but also significant contributors to the overall aesthetic and ambiance of our living spaces.
However, like all beautiful things, rugs require care and attention to maintain their allure. Regular cleaning and restoration are vital, not just for aesthetic reasons but for health and longevity as well. Over time, rugs can accumulate dust, allergens, and stains, becoming breeding grounds for bacteria and mites. This not only detracts from their beauty but can also affect the air quality of your home, posing potential health risks, especially for those with allergies or respiratory issues.
Think of your rug as a filter for your home. It traps and holds all sorts of particles that you bring in or that float through the air. Without regular cleaning, this filter becomes clogged, diminishing its effectiveness and the overall hygiene of your living space. Professional rug cleaning and restoration go beyond surface-level cleanliness. It delves deep into the fibers, removing trapped dirt and allergens, restoring your rug's natural texture and colors, and ensuring it remains a healthy and beautiful centerpiece in your home.
Moreover, professional cleaning and restoration play a crucial role in preserving the integrity of your rug. Each rug, depending on its material and construction, requires specific care. Improper cleaning methods can cause damage like fading, fraying, or even complete deterioration of the fabric. Professional rug cleaners understand these nuances and use the appropriate techniques and solutions to gently yet effectively clean and restore your precious pieces. This careful approach not only rejuvenates your rug but also extends its life, ensuring that it continues to enhance the beauty and comfort of your home for years to come.
In essence, your rug is an investment in the beauty and health of your home. Regular professional cleaning and restoration are not just about maintaining its appearance; it's about preserving a piece of your home's story and ensuring a clean, healthy environment for you and your loved ones. In the following sections, we'll explore the different types of rugs, common rug problems, and the benefits of entrusting your rugs to professional care, helping you make informed decisions about maintaining these essential elements of your home.
A Rug Lover's Guide: Tailored Cleaning Solutions for Every Rug Type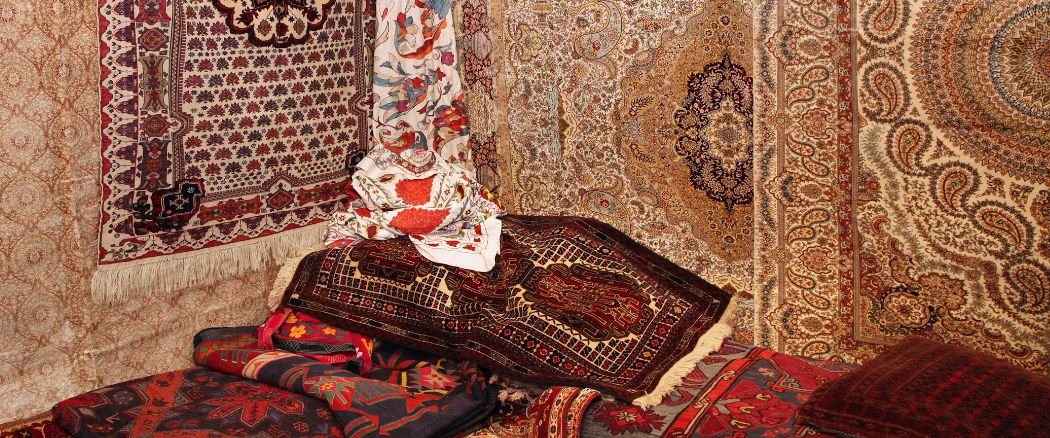 In the world of home décor, rugs are akin to works of art for your floor, each with its unique fabric, design, and character. Just as you wouldn't clean a delicate watercolor painting the same way you would a robust oil painting, different types of rugs require distinct care and cleaning approaches. Understanding the nature of your rug is the first step in ensuring its longevity and preserving its beauty. Let's dive into the world of rug materials and their specific cleaning needs.
Wool Rugs: Wool is one of the most popular materials used in rug making, prized for its durability and softness. However, wool rugs can be a haven for dust mites and can hold a significant amount of dirt. They require gentle but effective cleaning methods to avoid damage like shrinking or color bleeding. Wool is also sensitive to high temperatures and harsh chemicals, making professional cleaning crucial to avoid inadvertently harming these resilient yet delicate rugs.
Silk Rugs: The epitome of luxury, silk rugs are known for their lustrous sheen and intricate designs. These rugs are often delicate and can easily be damaged by improper cleaning. Silk fibers are prone to losing their sheen if exposed to too much water or harsh chemicals. Professional cleaners use specialized, pH-balanced solutions to gently clean silk rugs, maintaining their elegance and delicate texture.
Synthetic Rugs: Made from man-made fibers like nylon, polyester, or polypropylene, synthetic rugs are generally more stain-resistant and easier to clean than natural fiber rugs. However, they still require care to maintain their appearance over time. Depending on the type of synthetic fiber, certain cleaning agents and techniques are more suitable to prevent damage like melting or fiber distortion.
Professional Assessment: Each rug, with its unique blend of fibers, dyes, and construction, demands a tailored cleaning approach. This is where the expertise of professional rug cleaners becomes invaluable. Professionals begin with a thorough assessment, considering factors like material, dye stability, age, and the type of weave. For instance, hand-knotted rugs require a different cleaning method compared to machine-made rugs.
A professional's discerning eye can identify if a rug has colorfast dyes, which determines whether it can be wet cleaned or if it needs a dry cleaning method. They also consider the rug's construction; for example, tufted rugs have a backing that can be damaged if too much moisture is applied.
Understanding the specific needs of your rug is crucial for its care. While regular vacuuming and spot cleaning at home are essential, entrusting your rug to professional cleaners for deep cleaning ensures it receives the appropriate treatment. This not only rejuvenates your rug but also preserves its integrity, ensuring that it remains a cherished part of your home for years to come. In the next section, we'll explore the benefits of professional rug cleaning and why it triumphs over DIY methods.
Beyond Clean: The Unseen Advantages of Professional Rug Care
While the allure of DIY rug cleaning might be tempting, especially with the myriad of how-to guides and cleaning hacks available online, the expertise and thoroughness that professional cleaning services offer are unmatched. Understanding the benefits of professional rug cleaning will help you appreciate why it's a prudent choice for your cherished rugs.
Deeper Cleaning: Professional rug cleaners have access to advanced equipment and specialized cleaning solutions that are not typically available to the average consumer. This professional-grade equipment can extract dirt and debris from deep within the rug fibers, something that regular vacuuming and DIY cleaning methods cannot achieve. The result is a more thorough clean that not only enhances the appearance of your rug but also improves the air quality in your home.
Safe and Gentle on Fibers: One of the biggest risks with DIY cleaning is the potential damage to rug fibers. Incorrect cleaning methods, harsh chemicals, or excessive water can cause fading, shrinkage, or even the breakdown of fibers. Professional rug cleaners, on the other hand, have the knowledge to identify the best cleaning method for each type of rug, ensuring that the cleaning process is not only effective but also gentle, preserving the integrity of the rug's fibers.
Enhanced Longevity and Appearance: Regular professional cleaning can significantly extend the life of your rug. Dirt and grit that accumulate in a rug can act like sandpaper, gradually wearing down the fibers each time you walk over it. By removing this abrasive dirt, professional cleaning can prevent premature wear and tear, keeping your rug looking new for longer. Moreover, professional cleaners can rejuvenate the original colors of your rug, making faded or dull rugs vibrant once again.
Protecting Your Investment: Rugs, particularly high-quality or antique ones, can be significant investments. Professional cleaning helps protect this investment by ensuring that your rugs are properly cared for. This not only maintains their value but also ensures that they continue to enhance the beauty and comfort of your home.
In essence, professional rug cleaning offers a level of care and effectiveness that DIY methods simply cannot match. It is an investment in the longevity, appearance, and healthiness of your rugs. By entrusting your rugs to professionals, you are not just cleaning them; you are preserving their beauty, extending their life, and maintaining a clean, healthy environment in your home. In the following section, we'll delve into common rug problems and how professional services can effectively address these issues.
Tackling Rug Challenges: Pro Solutions for Common Issues
Rugs, as essential elements of our homes, face a variety of challenges over their lifetimes. From the stubborn red wine stain to the wear and tear of daily use, each issue requires a specific approach for resolution. Understanding these common problems and how professional services address them can reassure you that your treasured rugs can be restored to their former glory.
Stubborn Stains: Spills and stains are inevitable, especially in a home with kids or pets. While immediate spot cleaning can help, some stains like wine, coffee, or ink can be particularly stubborn. Professional rug cleaners use targeted treatments to break down these tough stains without damaging the rug fibers. They employ a range of techniques, including gentle agitation and advanced stain-removal solutions, to effectively lift the stains while preserving the color and integrity of the rug.
Wear and Tear: High-traffic areas can lead to visible wear on rugs, with fibers becoming matted or flattened. Over time, this can result in uneven surfaces and a general dulling of the rug's appearance. Professional cleaning can rejuvenate these worn areas. By using specific techniques such as gentle brushing and pile lifting, professionals can revive the texture and fluffiness of the rug, giving it a renewed look and feel.
Color Fading: Exposure to sunlight or the use of harsh cleaning chemicals can cause rugs to lose their vibrant colors. To combat this, professional cleaners utilize color-safe cleaning solutions that are effective yet gentle on the dyes. Additionally, they can offer advice on how to position and protect your rug from direct sunlight to prevent future fading.
Persistent Odors: Rugs can absorb odors from pets, spills, and general household activities, leading to a lingering unpleasant smell. Simply masking these odors with fragrances is not enough; they need to be eliminated at the source. Professional rug cleaning services often include odor removal treatments that not only neutralize these odors but also leave your rug smelling fresh and clean.
We understand the unique challenges each rug presents and tailor our approach accordingly. Whether it's employing specific stain-removal techniques, adjusting cleaning methods to preserve delicate fibers, or using odor-neutralizing treatments, our goal is to ensure that your rugs are not only clean but also retain their beauty and integrity. Trusting your rugs to professionals means you can enjoy them in pristine condition for years to come. In our next section, we will explore the restoration process for antique or heavily damaged rugs, showcasing how these treasured pieces can be brought back to life.
Reviving Timeless Elegance: The Art of Rug Restoration
There is something almost magical about witnessing a once-dilapidated rug being transformed back to its original splendor. The restoration of antique or heavily damaged rugs is an intricate and meticulous process, one that combines artistry with expertise. Here, we delve into the detailed journey of rug restoration, highlighting the care and skill involved in reviving these treasured pieces.
Assessment and Planning: The first step in any restoration process is a thorough assessment. Our experts closely examine the rug, noting its age, material, weave, and the specific types and extents of damage. This could be anything from faded colors and frayed edges to tears, holes, or water damage. Based on this evaluation, a detailed plan is crafted, outlining the necessary restoration steps tailored to the rug's specific needs.
Cleaning: Before any repairs are made, the rug undergoes a careful cleaning process. This step is crucial as dirt and grit can interfere with the restoration work. We use gentle, yet effective cleaning methods that are appropriate for the rug's age and fabric, ensuring that it is pristine before proceeding to the next stage.
Repairing and Re-weaving: This is where the true artistry of restoration comes into play. Damaged areas are repaired with a keen eye for detail and a steady hand. In cases of missing threads or holes, our skilled artisans re-weave sections of the rug, meticulously matching the original patterns, colors, and techniques. The goal is to make the repairs seamless, maintaining the rug's historical integrity and aesthetic value.
Color Restoration: Faded colors are revitalized in a way that respects the rug's age and character. Using dyes that are carefully blended to match the original hues, we gently reintegrate color where it has been lost, ensuring that the rug's vintage charm is preserved.
Finishing Touches: The final step involves detailed finishing touches. This could include securing loose fringes, smoothing the pile, and applying treatments to protect the rug from future damage. The rug is then thoroughly inspected to ensure it meets our high standards of restoration.
Transformation Tales: Real-Life Rug Revivals That Inspire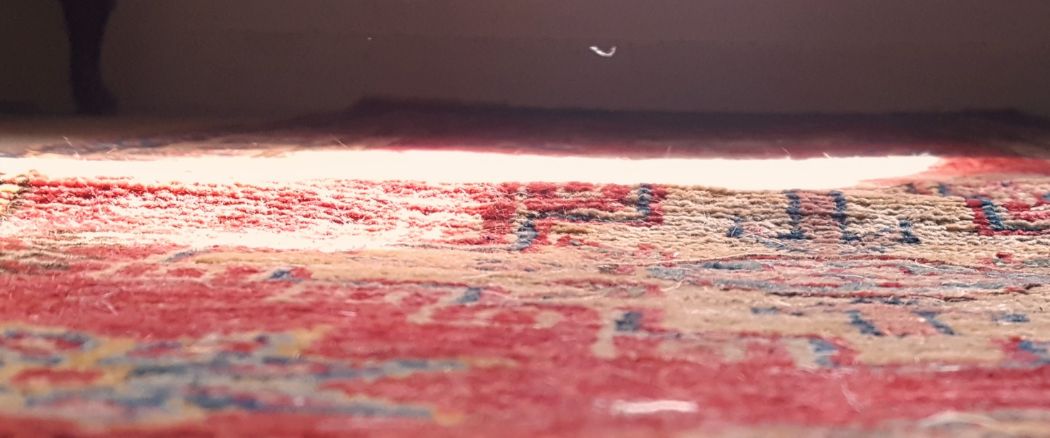 Case Study 1: Reviving a Family Heirloom in Singapore
Client Profile: A family residing in a heritage shophouse in the Joo Chiat area of Singapore.
Challenge: The client owned a century-old Persian rug passed down through generations. Over the years, the rug had suffered significant wear, particularly in the high-traffic central area, and had several coffee stains from recent gatherings.
Solution: Our team conducted a detailed assessment, identifying key areas for restoration. We employed gentle hand washing techniques to preserve the rug's delicate fibers and colors. Special attention was given to stain removal, using eco-friendly solutions to lift the coffee stains without damaging the rug. The central area was meticulously re-woven to match the original patterns.
Outcome: The rug was restored to its original glory, with vibrant colors and renewed texture. The family was thrilled to see their heirloom revived, ready to be cherished for many more years.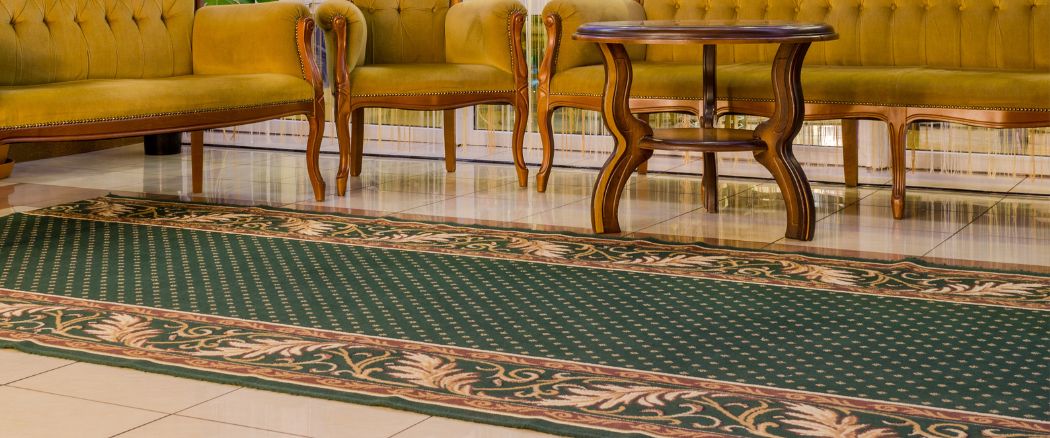 Case Study 2: Corporate Restoration Project in Singapore's Central Business District
Client Profile: A high-end law firm located in Marina Bay Financial Centre.
Challenge: The firm's luxurious silk lobby rug had lost its luster due to heavy foot traffic and exposure to sunlight. The colors had faded, and the fibers were beginning to fray.
Solution: Recognizing the rug's material and placement, we implemented a color restoration process using fade-resistant dyes. The frayed areas were carefully repaired, and the entire rug underwent a gentle but thorough cleaning process to revive its sheen and softness.
Outcome: The restored rug once again became a centerpiece in the firm's lobby, impressing clients with its renewed elegance and vibrancy. The firm appreciated our swift and non-disruptive service.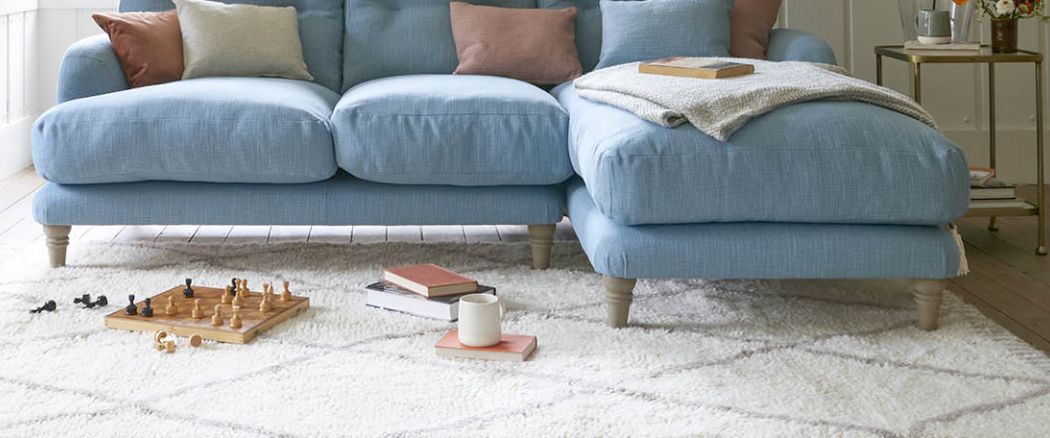 Case Study 3: Restoring a Water-Damaged Rug in a Singaporean Tropical Home
Client Profile: A family living in a colonial-style bungalow in Bukit Timah, known for its lush greenery and high humidity.
Challenge: A beloved woolen living room rug suffered water damage from a leaking ceiling during a heavy monsoon season, leading to mildew and a musty odor.
Solution: We first treated the rug for mildew, using specialized solutions to eliminate the mold and its spores. The rug was then thoroughly cleaned to remove any residue and odor. We also advised the family on proper rug placement and care to prevent future water damage.
Outcome: The woolen rug was not only salvaged but also fully restored, free of any odors or mildew. The family was delighted to have their comfortable and clean rug back, enhancing their tropical home's ambiance.
Restoring an old or damaged rug is not just about repairing its fabric; it's about preserving a piece of history, a slice of artistry, and a part of your home's story. Through our careful and skilled restoration process, we ensure that these precious textiles are not just restored in their appearance but also in their spirit and vitality. Stay tuned for our next section, where we will provide tips on maintaining your rug after professional cleaning, ensuring its beauty and longevity.
Post-Clean Perfection: Tips to Keep Your Rugs Pristine
Once your rug has been professionally cleaned and restored, it's like getting a fresh start. To keep this renewed elegance lasting longer and to ensure your rug remains a vibrant part of your home, regular maintenance is key. Here are some practical tips to help you care for your rug effectively:
Routine Vacuuming: Regular vacuuming is the simplest yet most effective way to maintain your rug's cleanliness and appearance. It removes dirt and dust that can accumulate daily, preventing these particles from settling deep into the rug fibers. For wool rugs, use a suction-only vacuum or a vacuum with a beater bar set so it lightly touches the rug's surface. For delicate silk or antique rugs, consider using a brushless suction head to avoid fiber damage.
Immediate Stain Treatment: Accidents happen, but the key to minimizing their impact is swift action. If a spill occurs, blot it immediately with a clean, dry cloth to absorb as much liquid as possible. Avoid rubbing, as this can push the stain deeper into the fibers. For tougher stains, it's advisable to consult with a professional cleaner rather than attempting to remove the stain with harsh chemicals.
Avoid Direct Sunlight: Prolonged exposure to direct sunlight can cause your rug's colors to fade. Try to place your rug in a location where it's not in constant direct sunlight, or rotate it periodically to ensure even exposure.
Professional Cleaning Schedule: While regular home care is essential, scheduling professional cleanings is crucial for long-term preservation. For rugs in high-traffic areas, a professional cleaning every 12 to 18 months is recommended. Rugs in lower-traffic areas can benefit from a professional clean every two to three years.
By following these simple yet effective care tips, you not only maintain the aesthetic appeal of your rug but also contribute to a healthier living environment. Remember, a well-maintained rug can offer comfort, beauty, and warmth to your home for many years to come.
Selecting Excellence: How to Find the Best Rug Cleaning Service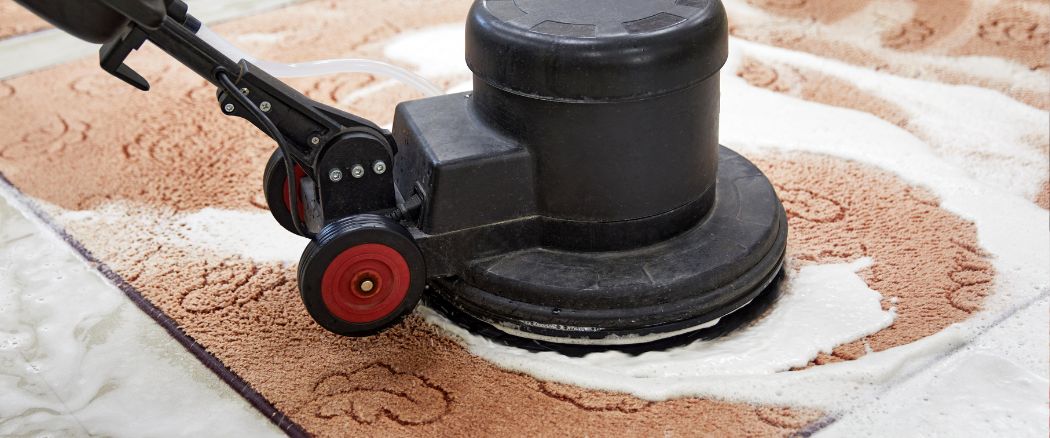 Selecting the right professional to care for your cherished rugs is a decision that should not be taken lightly. A great rug cleaning service can preserve and enhance the beauty of your rugs, while a poor choice can lead to damage and disappointment. To ensure that your rugs are in safe hands, consider the following factors when choosing a rug cleaning service:
Expertise and Experience: The longevity and reputation of a rug cleaning service can speak volumes about its expertise. Look for a service provider with substantial experience, particularly with rugs similar to yours in material and style. Experienced professionals are more likely to understand the nuances of different rug types and how to address specific issues effectively.
Industry Certifications: Certifications from recognized industry bodies indicate a level of professionalism and adherence to industry standards. These certifications often require training and testing, so they can be a good indicator of the technical knowledge and skill of the service provider.
Tailored Services: Each rug is unique and requires a customized approach. A reputable rug cleaning service will offer a consultation to assess your rug and suggest the best cleaning method. This bespoke service ensures that your rug's specific needs are met, preserving its integrity and beauty.
Our Company's Commitment: We pride ourselves on our comprehensive expertise in handling all types of rugs, from precious antiques to modern synthetic pieces. Our team of skilled professionals is not only experienced but also continuously trained in the latest rug care techniques. We hold industry certifications that underscore our commitment to quality and excellence.
In choosing us for your rug cleaning needs, you are not just hiring a service; you are entrusting your valued possession to a team that will treat it with as much care as if it were our own. In the next section, we will conclude by emphasizing the importance of maintaining and restoring rugs, and invite you to experience the difference with our exceptional service.
The Ultimate Rug Care Journey: From Cleaning to Cherishing
As we reach the end of our journey exploring the world of rug care, let's reflect on the key insights we've uncovered. Rugs are more than just floor coverings; they are storytellers, comfort providers, and aesthetic enhancers in our homes. The value of maintaining and restoring these precious pieces cannot be overstated. It's about preserving their beauty, extending their lifespan, and ensuring they continue to add warmth and elegance to your living spaces.
Preservation and Enhancement: Regular professional cleaning and timely restoration not only maintain the visual appeal of your rugs but also contribute significantly to their longevity. Each rug, with its unique fabric and design, demands specific care, and professional services are equipped to provide this specialized attention.
Health and Hygiene: Beyond aesthetics, clean rugs contribute to a healthier home environment. Professional cleaning removes deeply embedded dirt and allergens, improving the air quality in your home and making it a safer place for you and your loved ones.
Investment in Quality: Your rugs are an investment, and like any valuable asset, they deserve expert care. Professional cleaning and restoration services protect this investment, ensuring that your rugs retain their value and charm.
We invite you to experience the difference that professional rug care can make. Our dedicated team, with its expertise, experience, and customer-centric approach, is committed to providing the highest level of service. Whether your rug needs a routine clean or a complex restoration, we are here to ensure that it receives the care it deserves.
Consider professional rug cleaning and restoration as an essential part of your home maintenance routine. Reach out to us, and let us help you keep your rugs in pristine condition, preserving their story and beauty for years to come. Remember, a well-cared-for rug can be a treasured part of your home for generations.
Begin Your Rug Revival: Discover the Big Red Difference Today
Are you ready to rejuvenate your cherished rugs and breathe new life into your living spaces? At Big Red, we're not just experts in rug cleaning and restoration; we're passionate about preserving the beauty and integrity of your precious textiles.
Our services are a blend of traditional craftsmanship and modern technology, ensuring that each rug we handle receives the utmost care and attention. Whether it's a delicate antique rug, a contemporary piece, or a treasured family heirloom, we have the expertise to clean, restore, and revitalize it to its former glory.
Why wait to see the transformation we can bring to your rugs? Contact us today at info@bigred.com.sg or call us at +65 6241 9443. Let's discuss how we can extend the life and enhance the beauty of your rugs. Our team is ready to offer personalized advice, provide detailed quotes, or schedule a convenient time for your cleaning and restoration needs.
Explore our full range of services and see the remarkable transformations we've achieved for rugs just like yours. Don't let another day go by with your rugs not looking their best. Reach out to us, and let's start the journey to revitalize your space together.