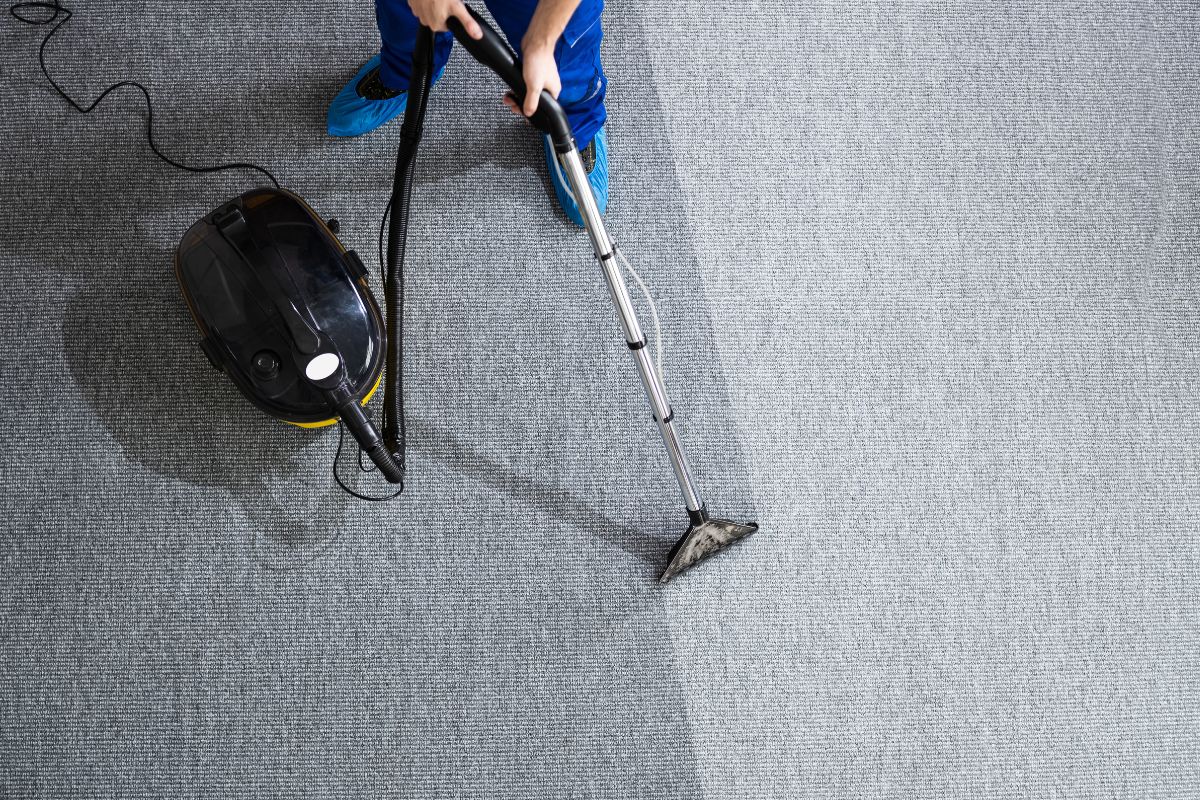 In the bustling world of commerce, first impressions are crucial, and often, they start from the ground up – quite literally, with your carpets. The importance of maintaining clean carpets in commercial settings transcends mere aesthetics; it is an essential aspect of fostering a positive business image, ensuring employee health, and shaping customer perception.
When clients or potential business partners step into your office, store, or facility, the state of your carpets speaks volumes before a single word is exchanged. Clean, well-maintained carpets convey professionalism, attention to detail, and a sense of pride in your business environment. In contrast, carpets that are stained, soiled, or poorly maintained can immediately set a negative tone, suggesting a lack of care or professionalism. This aspect of business presentation is not just about making a good impression; it's about establishing and maintaining a reputation of excellence and reliability.
Beyond the visual appeal, the condition of your carpets has a direct impact on the health and well-being of employees and visitors. Commercial spaces typically experience high foot traffic, bringing in dirt, allergens, and bacteria that can become trapped in carpet fibers. Without regular and thorough cleaning, these contaminants can contribute to indoor air pollution, potentially leading to respiratory issues, allergic reactions, and other health concerns. A clean carpet, free from harmful particles, is fundamental to creating a healthy workplace. This is especially vital in times when public health and hygiene are at the forefront of everyone's mind.
Moreover, the state of your carpets can significantly influence customer perception and experience. In sectors such as retail, hospitality, or healthcare, where cleanliness is closely associated with service quality, carpets that are well-cared for can enhance customer trust and satisfaction. This is not merely about removing spots or preventing wear and tear; it's about creating an environment that customers feel comfortable and confident in, one that reflects the quality and standards of your services or products.
The significance of maintaining clean carpets in commercial environments is multi-faceted, impacting everything from business image to health and customer perception. As we delve deeper into the world of commercial carpet cleaning, we will explore the various methods, best practices, and emerging trends that can help businesses not only maintain their carpets but also ensure they contribute positively to the overall business environment. The goal is clear: to ensure that your carpets are not just clean, but a cornerstone of your business's success.
Decoding the Essentials of Commercial Carpet Maintenance
Navigating the intricate world of commercial carpet cleaning requires a distinct approach compared to residential cleaning. Understanding these differences is crucial for businesses aiming to maintain their carpets in top-notch condition. Commercial carpet cleaning is not just about dealing with larger spaces; it's about addressing unique challenges and adapting to diverse commercial environments.
Firstly, the scale and frequency of cleaning set commercial carpet care apart. In a residential setting, carpets may endure moderate foot traffic from a handful of people daily. In contrast, commercial carpets are often subjected to a constant stream of foot traffic, encompassing employees, customers, and visitors. This heavy usage means commercial carpets accumulate dirt and wear at a much faster rate, necessitating more frequent and robust cleaning routines.
The nature of soiling in commercial spaces also differs significantly. Offices and retail spaces may see a variety of stains, from coffee spills to ink marks, while industrial settings might contend with oil or chemical stains. Each type of soiling requires specific cleaning methods and solutions to ensure effective removal without damaging the carpet fibers. Understanding these nuances is essential for maintaining the appearance and longevity of commercial carpets.
Another challenge in commercial carpet cleaning is the diversity of carpet types used in these settings. Commercial carpets are often designed for durability and long-term use, with tighter weaves and hardier materials compared to residential carpets. This makes them more resilient but also more challenging to clean deeply. Specialized equipment and techniques are required to penetrate these dense fibers and extract all the dirt and debris effectively.
Additionally, the operational hours of commercial spaces add another layer of complexity. Cleaning processes must be efficient and effective, minimizing downtime or disruption to business activities. This often means employing faster-drying methods or scheduling cleaning during off-hours, ensuring the business can continue operating without hindrance.
Commercial carpet cleaning is a specialized field that demands a thorough understanding of the distinct challenges presented by commercial environments. From dealing with high foot traffic and diverse types of soiling to catering to different carpet materials and business operations, commercial carpet cleaning goes beyond simple cleaning. It's about preserving the quality and appearance of carpets in a way that supports and enhances the overall business environment.
Diving Into Advanced Techniques for Commercial Carpet Revival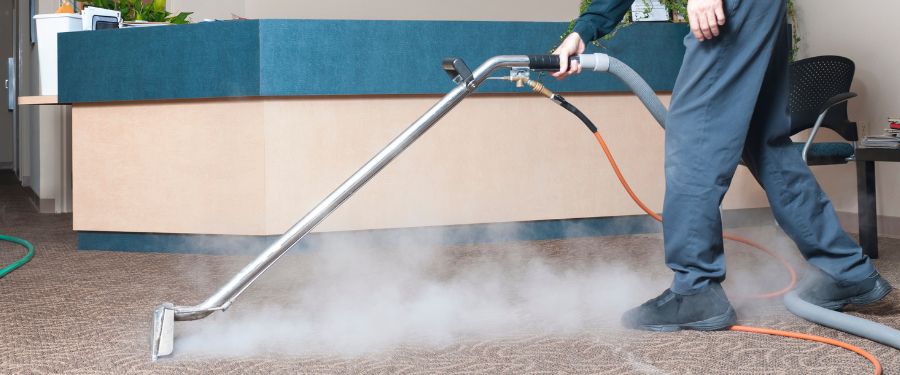 In the realm of commercial carpet care, various methods have been developed to address the unique challenges of high-traffic and diverse commercial environments. Each technique, from steam cleaning to bonnet cleaning, offers its own set of advantages and limitations, making it crucial to understand which method best suits your specific needs.
Steam Cleaning (Hot Water Extraction):
Steam cleaning, also known as hot water extraction, involves injecting hot water and cleaning agents into the carpet at high pressure and then extracting the water along with the dislodged dirt. This method is highly effective for deep cleaning, as the hot water penetrates deep into the carpet fibers, removing ground-in dirt and stains. It's particularly suited for carpets with heavy soiling or those in need of a thorough clean. However, steam cleaning requires significant drying time, which might be a drawback for busy commercial spaces that cannot afford prolonged downtime.
Dry Chemical Cleaning (Compound Cleaning):
Dry chemical cleaning, or compound cleaning, involves spreading a powdered cleaning agent over the carpet, which is then worked into the fibers using a motorized brush. The chemicals absorb the dirt, which is then vacuumed away. This method is less labor-intensive than steam cleaning and allows for quick drying times, making it suitable for commercial areas that need to be operational soon after cleaning. However, it may not be as effective for deeply soiled carpets, as it primarily cleans the surface of the carpet.
Encapsulation
Encapsulation technology uses a special solution that crystallizes soil particles upon drying. After applying the solution, a machine agitates the carpet, allowing the encapsulating chemicals to isolate the dirt. Once dried, the encapsulated dirt can be vacuumed away. This method offers quick drying times and minimal disruption, making it ideal for maintenance cleaning in high-traffic commercial areas. However, encapsulation may not be the best choice for carpets with heavy staining or deep-seated dirt.
Bonnet Cleaning
Bonnet cleaning involves a machine with a spinning pad soaked in a cleaning solution. This pad agitates the surface of the carpet, absorbing dirt and stains. Bonnet cleaning is quick and efficient, often used in hotels and retail spaces for interim maintenance. It's less aggressive than other methods, making it suitable for lightly soiled carpets. However, it primarily cleans the surface of the carpet and may leave deeper dirt and stains behind.
In conclusion, each commercial carpet cleaning method has its own strengths and is suited to different types of carpets and cleaning needs. Understanding these methods is key to determining the best approach for maintaining the appearance and longevity of your commercial carpets.
Elevating Hygiene: The Power of Non-Leaching Antimicrobials in Carpet Care
In the evolving landscape of commercial carpet cleaning, the introduction of non-leaching antimicrobial treatments marks a significant step forward in enhancing health and hygiene. These advanced treatments play a pivotal role in ensuring carpets not only appear clean but are also safe and healthy environments for everyone who uses the space.
Non-leaching antimicrobial treatments are applied to carpets to create a protective barrier that resists the growth of bacteria, mold, and mildew. Unlike traditional antimicrobials that may dissipate or leach out over time, non-leaching types remain bound to the carpet fibers. This enduring protection is crucial in commercial settings where carpets are exposed to constant foot traffic and a variety of contaminants. The antimicrobial treatment continues to work long after the initial application, offering a lasting defense against microbial growth.
The health benefits of using these treatments are considerable. By effectively controlling the growth of harmful microorganisms, non-leaching antimicrobials reduce the risk of allergen buildup and microbial-induced illnesses. This is particularly important in environments such as schools, hospitals, and offices, where maintaining a healthy indoor environment is paramount. Reducing microbial activity not only contributes to better air quality but also enhances the overall cleanliness and hygiene of the space.
Moreover, when opting for antimicrobial treatments, it's essential to choose products that are approved by the Environmental Protection Agency (EPA). EPA-approved products have been rigorously tested and proven to be effective without posing health risks to humans or the environment. This approval ensures that the antimicrobial agents used are not only effective in combating microbes but also safe for the people who come into contact with the treated carpets.
In summary, incorporating non-leaching antimicrobial treatments into commercial carpet cleaning protocols is a forward-thinking approach to ensuring a clean, healthy, and safe environment. By using EPA-approved products, businesses can safeguard the health of their employees and customers while upholding high standards of cleanliness and hygiene.
The Golden Rule of Carpet Care: Why Regular Maintenance Matters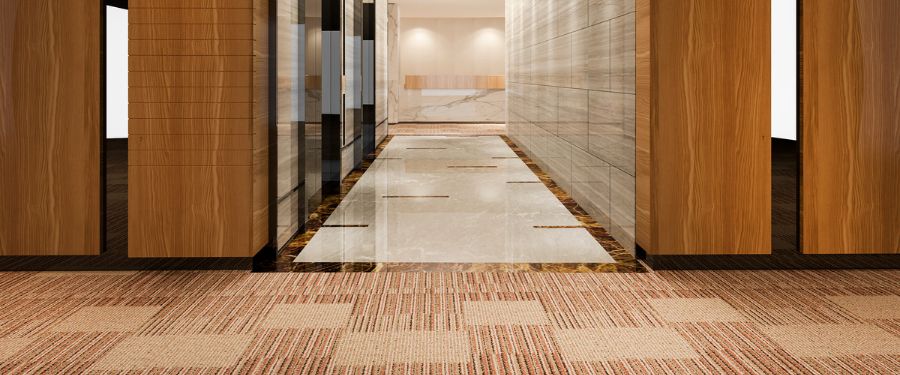 Regular maintenance of commercial carpets is not just a cleaning task; it's an investment in the longevity of the carpet and the health of the indoor environment. Establishing a routine cleaning schedule is essential for sustaining the appearance and functionality of carpets in commercial spaces, while also offering significant benefits for indoor air quality.
Preserving Carpet Life
Regular maintenance extends the life of commercial carpets significantly. Carpets in high-traffic areas are prone to rapid wear and tear, accumulation of dirt, and staining. Without routine cleaning, these issues can lead to irreversible damage, necessitating costly replacements. Scheduled cleanings prevent the buildup of dirt and debris that can fray and break down carpet fibers over time. By routinely removing these harmful elements, the structural integrity of the carpet is preserved, ensuring it remains robust and visually appealing for longer periods.
Enhancing Indoor Air Quality
The impact of clean carpets on indoor air quality is often underestimated. Carpets act like a filter, trapping dust, allergens, and pollutants, which can be beneficial until they become saturated. Once this happens, the trapped particles can be released back into the air, potentially leading to poor air quality and health issues for those frequenting the space. Regular carpet cleaning removes these trapped contaminants, maintaining a cleaner and healthier indoor air environment. This is particularly crucial in settings like offices and retail spaces, where individuals spend considerable time.
The importance of a regular cleaning schedule for commercial carpets cannot be overstated. It's a proactive approach that not only keeps carpets looking their best but also contributes to a healthier, more welcoming commercial environment. Investing in regular carpet maintenance is investing in the longevity of your carpet and the well-being of your space's occupants.
Choosing Your Carpet Cleaning Champions: What to Look for in Professional Services
In the quest to maintain pristine and healthy commercial spaces, choosing the right carpet cleaning service is paramount. This decision should be guided by several key factors, including the service provider's expertise, equipment quality, and commitment to eco-friendly practices. Additionally, understanding the role of sustainability in commercial cleaning can further inform your choice, ensuring a balance between effective cleaning and environmental responsibility.
Assessing Expertise and Experience
The expertise of a carpet cleaning service is critical. Look for companies with a proven track record in commercial carpet cleaning, showcasing their ability to handle the specific challenges and requirements of commercial spaces. Experienced professionals are more likely to possess the knowledge and skills necessary to deal with various carpet types, stains, and soiling levels effectively. Check for certifications or endorsements from industry organizations, which can be a testament to their proficiency and commitment to high standards.
Evaluating Equipment and Techniques
The quality of equipment and cleaning techniques used is another vital consideration. Advanced, commercial-grade equipment can ensure deeper and more efficient cleaning without damaging the carpet fibers. Inquire about the range of methods they offer, such as steam cleaning, dry cleaning, or encapsulation, and discuss the most suitable options for your specific carpeting and business needs.
Prioritizing Eco-Friendly Practices
Eco-friendly practices in carpet cleaning are not just a trend but a necessity for sustainable business operations. Opt for services that use environmentally safe cleaning agents and methods that reduce water waste and chemical runoff. These practices are not only better for the environment but also safer for your employees and customers, particularly in terms of reducing exposure to harsh chemicals and toxins.
The Role of Sustainability
Sustainability in commercial carpet cleaning extends beyond the use of eco-friendly products. It encompasses a holistic approach to cleaning that considers the long-term impact on the environment, the health of building occupants, and the life of the carpets. A service that prioritizes sustainability understands the importance of resource conservation, waste reduction, and a smaller ecological footprint, aligning with the growing global emphasis on environmental responsibility.
Selecting the right commercial carpet cleaning service requires careful consideration of their expertise, equipment, eco-friendly practices, and commitment to sustainability. By choosing a service that aligns with these criteria, businesses can ensure their carpets are not only clean and well-maintained but also contribute to a healthier, safer, and more sustainable environment.
Real-Life Transformations: How Professional Carpet Cleaning Redefines Spaces
These case studies provide a glimpse into the real-world impact of professional carpet cleaning services, each presenting a unique scenario and followed by a testimonial from the business representative.
Hotel Elegance Restored: A Metropolitan Hotel's Transformation
Scenario: The grand lobby and corridors of a bustling city hotel were losing their appeal due to worn and stained carpets. The management sought professional help to restore their carpets to their former glory.
Testimonial: "The steam cleaning service brought back life to our carpets. Guests have noticed the change, complimenting the renewed elegance of our interiors. It's boosted our image and guest satisfaction immensely." – Hotel Manager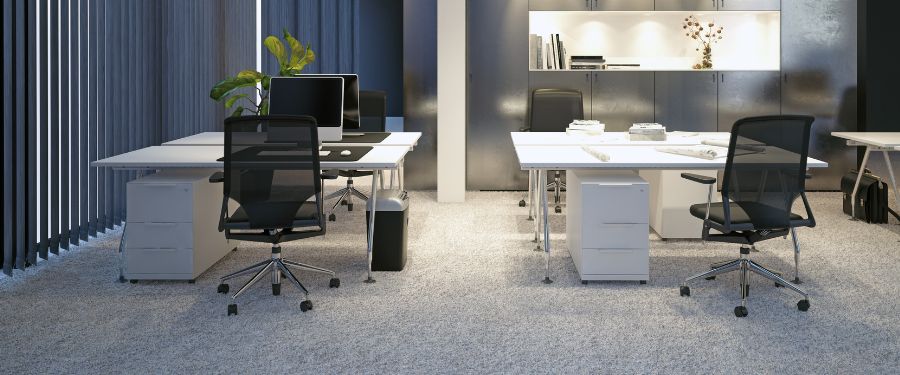 Breathe Easy: Allergen Reduction in a Corporate Office
Scenario: An office was facing increased absenteeism linked to allergies, with suspicions falling on the old, dusty carpets. They called in experts for a deep clean, focusing on allergen removal.
Testimonial: "Since the professional cleaning, we've seen a noticeable drop in allergy complaints among our staff. The air feels cleaner, and there's a newfound vibrancy in the workspace." – Office HR Manager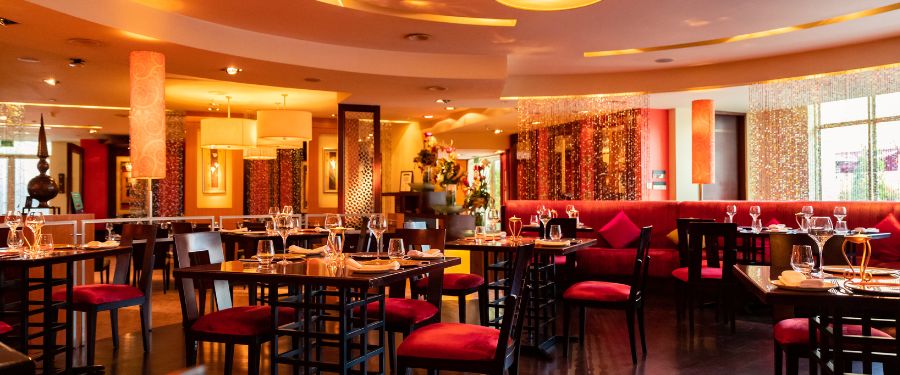 Culinary Ambiance Enhanced: Reviving a High-End Restaurant's Carpets
Scenario: A prestigious restaurant was struggling to maintain its carpets, tarnished by frequent spills and foot traffic. They employed a professional team for targeted cleaning and maintenance.
Testimonial: "The transformation of our carpets has redefined our dining space, matching our high culinary standards. Our customers appreciate the cleanliness, which reflects our attention to detail." – Restaurant Owner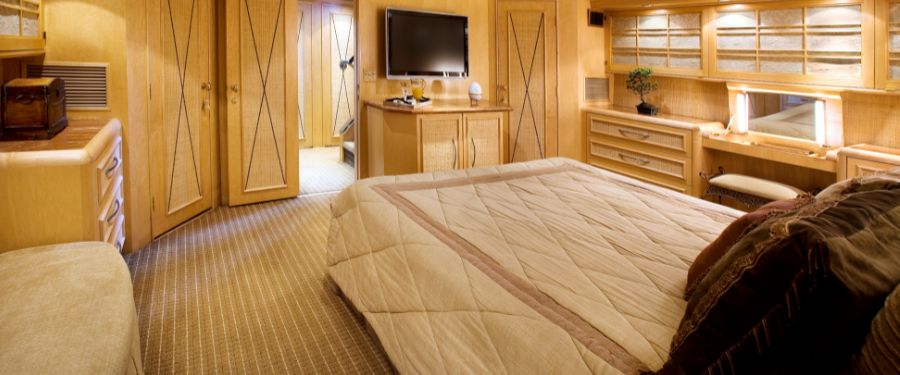 Luxury on the Seas: Carpet Care on a Yacht
Scenario: The unique marine environment was taking its toll on a luxury yacht's carpets, leading to issues with mildew and moisture. Specialized marine carpet cleaners were brought in to address these challenges.
Testimonial: "The expertise of the cleaning team was evident in how they handled the specific needs of our yacht. The carpets are not just clean, but they feel fresher, enhancing the luxury experience for our guests." – Yacht Captain
These case studies across diverse commercial settings illustrate the significant impact professional carpet cleaning can have. From enhancing visual appeal and improving air quality to contributing to the overall experience of a space, the benefits are clear and multifaceted. These success stories serve as compelling testimonials to the value of investing in professional carpet care.
DIY vs. Professional Carpet Cleaning: Making the Smart Choice for Your Business
The debate between DIY and professional carpet cleaning in a commercial context hinge on the effectiveness, feasibility, and the critical role of professional expertise. Understanding these distinctions is vital for businesses to make informed decisions about their carpet care strategies.
The debate between DIY and professional carpet cleaning in a commercial context hinge on the effectiveness, feasibility, and the critical role of professional expertise. Understanding these distinctions is vital for businesses to make informed decisions about their carpet care strategies.
Effectiveness and Feasibility of DIY vs. Professional Services
DIY carpet cleaning in a commercial setting can be tempting due to perceived cost savings. However, the effectiveness of DIY methods often falls short when compared to professional services. Commercial carpets require deep cleaning to remove stubborn stains, dirt, and allergens effectively, something that standard DIY equipment and cleaning solutions might not achieve. Additionally, commercial spaces often feature larger carpeted areas, making DIY cleaning not only less effective but also time-consuming and labor-intensive.
The feasibility of DIY in commercial environments is further challenged by the need for regular maintenance. Consistency in quality and results is difficult to maintain with DIY methods, especially in high-traffic areas. Businesses might find themselves spending more time and resources on frequent DIY cleanings, which could be more efficiently and effectively managed by professionals.
The Importance of Professional Expertise
Professional carpet cleaners bring a level of expertise and equipment that is typically beyond the scope of DIY methods. They are trained to handle different types of carpets, stains, and cleaning challenges specific to commercial settings. With access to advanced cleaning technologies and high-grade solutions, professionals can ensure a deeper, more thorough clean. Their expertise also extends to understanding the best cleaning methods for different carpet materials, ensuring the carpet's longevity is not compromised.
Moreover, professionals can provide regular maintenance schedules, tailored to the specific needs of the commercial space, ensuring that carpets remain in top condition over time. This professional touch not only enhances the appearance of the carpets but also contributes to a healthier indoor environment.
In conclusion, while DIY carpet cleaning might seem appealing for commercial spaces, the effectiveness and feasibility often fall short compared to professional services. The expertise and equipment that professional cleaners bring to the table are invaluable for maintaining the integrity, appearance, and healthiness of commercial carpets.
Crunching Numbers: The Financial Wisdom of Professional Carpet Cleaning
The cost-benefit analysis of engaging professional carpet cleaning services reveals significant long-term financial advantages for businesses. While the initial expense might appear higher than DIY methods, the long-term savings are substantial.
Long-Term Financial Benefits
Professional carpet cleaning extends the life of carpets, delaying expensive replacements. Consistent, deep cleaning maintains the carpet's integrity, appearance, and durability. This not only saves money in the long run but also protects the investment made in quality carpeting. Additionally, professional services often use advanced techniques that ensure quick drying, reducing downtime and potential income loss, especially crucial in high-traffic commercial settings.
Impact on Healthcare Costs and Business Reputation
Regular professional cleaning contributes to a healthier workplace by reducing allergens and airborne contaminants. This can lead to fewer sick days among employees, lowering healthcare costs and increasing productivity. Moreover, the aesthetic and health benefits of professionally cleaned carpets enhance a business's reputation. A clean, well-maintained environment is appealing to customers and clients, reflecting positively on the business's brand and potentially attracting more patronage.
Carpet Care as a Cornerstone of Business Excellence: Insights and Implications
In conclusion, maintaining clean carpets in commercial settings is essential for health, aesthetics, and overall business success. From the effectiveness of various cleaning methods and the advantages of professional services to the importance of regular maintenance and innovative trends, we've explored the multifaceted world of commercial carpet cleaning. Clean carpets not only enhance the visual appeal of a space but also contribute significantly to a healthier environment, positively impacting both employee well-being and customer perception. Investing in professional carpet care is a strategic decision that bolsters a business's image, health standards, and financial efficiency.
Elevate Your Space with Big Red Singapore: Next Steps to Pristine Carpets
Are you ready to elevate your commercial space with impeccable carpet care? Assess your current carpet cleaning strategies and consider the benefits of professional expertise. For tailored solutions that meet your specific needs, contact Big Red Singapore. Our team of experts is ready to provide you with more information and a personalized consultation. Reach out to us at info@bigred.com.sg or call +65 6241 9443 to discover how we can enhance the health, aesthetics, and success of your business environment. Let's work together to bring out the best in your commercial carpets!