In today's fast-paced business environment, the appearance and hygiene of your commercial space speak volumes about your brand and values. Carpets, often the centerpiece of such spaces, play a pivotal role in creating a welcoming and professional atmosphere. However, they also face constant wear and tear, accumulating dirt and allergens that can impact both the aesthetics and health of your workplace. This is where the importance of carpet cleaning comes into sharp focus.
Why is carpet cleaning essential in commercial settings? Firstly, it's about making a positive impression. Clean, well-maintained carpets reflect a business that cares about the smallest details. Secondly, and perhaps more importantly, it's a matter of health. Carpets can harbor dust, allergens, and bacteria, contributing to indoor air pollution. Regular cleaning ensures a healthier environment for your employees and clients, which is crucial in a city like Singapore, where indoor quality greatly impacts our daily lives.
This blog serves as your all-in-one resource for understanding and mastering the art of commercial carpet cleaning. We'll dive into the various types of carpets commonly used in commercial spaces, such as nylon, polyester, wool, and jute, and how their unique characteristics influence cleaning methods. Understanding these nuances is vital for effective cleaning and long-term carpet maintenance.
We'll also explore the diverse cleaning methods available, from traditional techniques like hot water extraction and shampooing to modern approaches like encapsulation and steam cleaning. Each method has its own set of benefits and suitable applications, which we'll demystify for you.
But it's not just about cleaning. Preventive maintenance is equally crucial. We'll provide practical tips on regular vacuuming, immediate spill management, and the use of entry mats and furniture pads to prolong the life of your carpets.
Lastly, we understand that every commercial space is unique, demanding a tailored approach to carpet cleaning. We'll discuss factors influencing cleaning frequency and offer guidelines for developing a cleaning schedule that fits your specific needs.
Whether you're a facility manager, business owner, or just interested in the world of commercial carpet care, this guide is designed to empower you with knowledge and insights, ensuring your carpets remain a source of pride and hygiene in your commercial setting.
The Fabric of Success: Understanding Materials and Construction of Commercial Carpets
Why Understanding Carpet Construction Matters
To choose the most effective cleaning methods for your commercial carpets, it's essential to start at the very foundation: understanding how these carpets are made. The materials and construction techniques not only determine the appearance and feel of your carpets but also their durability and the best ways to maintain them. Let's unravel these aspects.
Materials Used in Carpets
Nylon: Renowned for its durability and resilience, nylon is a popular choice for commercial carpets. It withstands heavy foot traffic, resists stains and fading, and retains its shape over time. However, its propensity to hold static electricity and its affinity for oils means that it can attract more soil, necessitating regular, thorough cleaning.
Polyester: This material is known for its luxurious look and vibrant color options. Polyester carpets are stain-resistant and budget-friendly, but they can struggle with oil-based stains and may show wear in high-traffic areas faster than nylon. They require a gentler cleaning approach to maintain their color and texture.
Wool: A natural fiber, wool is valued for its softness and natural soil resistance. It's an eco-friendly option that can last for decades when properly maintained. Wool carpets, however, need specialized care to avoid shrinkage and damage from harsh chemicals.
Jute: Another natural fiber, jute is environmentally friendly and lends a unique, organic look. It's not as durable as synthetic options and is more prone to moisture damage, making it less common in high-traffic commercial settings. Gentle, minimal-moisture cleaning methods are best for jute carpets.
Carpet Construction Techniques
Tufting: The most common method, tufting involves inserting yarn into a backing material. It's a versatile process that allows for various textures and patterns. Tufted carpets are generally easier to clean, but they require attention to their backing material, which can be sensitive to excessive water.
Weaving: Traditional and durable, woven carpets are made on a loom, intertwining the backing and yarn. They are known for their intricate designs and longevity. Cleaning woven carpets often requires professional attention to preserve their detailed patterns and structure.
Other Processes: Beyond these, there are methods like needle-punching and fusion-bonding, often used for specialty commercial carpets. Each has unique cleaning considerations, usually requiring specialized techniques.
Linking Construction to Cleaning Methods
The choice of material and construction technique has a direct impact on how a carpet should be cleaned:
Nylon and Polyester: These synthetic fibers often respond well to hot water extraction and steam cleaning, methods that can remove deep-seated dirt without damaging the fibers.
Wool: Requires more delicate handling; low-moisture methods and pH-balanced cleaners are preferable to avoid damage.
Jute: Being sensitive to moisture, jute carpets often benefit from dry cleaning methods to avoid warping or mildew.
Understanding these nuances ensures that cleaning processes not only effectively remove dirt and stains but also preserve the integrity and appearance of your commercial carpets.
Navigating the Landscape of Commercial Carpets: Types and Their Impact on Maintenance
Types of Commercial Carpets
Selecting the right type of carpet for your commercial space is not just about aesthetics; it's about choosing a style that aligns with your maintenance capabilities and durability needs. In this section, we explore the various types of commercial carpets and their implications for cleaning and longevity.
Loop Pile vs. Cut Pile Carpets
Loop Pile: These carpets feature fibers looped into the backing. This design makes them highly durable, able to withstand heavy foot traffic common in commercial settings. They're less prone to showing marks or wear patterns, making them a practical choice for busy areas. However, loop pile carpets can be challenging to clean deeply since the tight loops trap dirt. They require regular vacuuming and occasional deep cleaning with methods that penetrate these tight loops effectively.
Cut Pile: In contrast, cut pile carpets have fibers that are cut at the ends, creating a softer and more luxurious feel. They offer more options in terms of texture and plushness, perfect for executive areas or boardrooms. The downside? Cut pile carpets show footprints and vacuum tracks more easily and can wear down quicker in high-traffic areas. They demand a more frequent cleaning schedule and a gentle approach to preserve their soft texture.
Carpet Tiles vs. Broadloom Carpets
Carpet Tiles: Modular and versatile, carpet tiles are a popular choice in modern commercial settings. They allow for easy replacement of individual tiles in case of stains or damage, making them a cost-effective and practical solution. Carpet tiles can be cleaned just like any other carpet, but their convenience lies in the ability to replace sections without redoing the entire floor.
Broadloom Carpets: Broadloom, or wall-to-wall carpets, offer a seamless look that can make a space feel larger and more cohesive. They are generally more traditional and can be more luxurious, but any damage or staining might require a more extensive repair job. When it comes to cleaning, broadloom carpets need consistent, thorough maintenance, particularly in high-traffic zones to prevent wear patterns and soil build-up.
Specialty Carpets
Some commercial spaces require carpets with specific features:
Anti-Static Carpets: Essential in electronic stores or areas with sensitive equipment, these carpets reduce static electricity build-up. Cleaning these carpets often requires specific methods to maintain their anti-static properties.
Moisture-Resistant Carpets: Ideal for areas prone to spills or dampness, these carpets prevent moisture from seeping into the underlay. They still require regular cleaning but are more forgiving when it comes to moisture-related issues.
Eco-Friendly Options: Made from sustainable materials, these carpets are gaining popularity. They often require gentle, eco-friendly cleaning products to maintain their integrity and environmental benefits.
Each type of commercial carpet comes with its unique set of cleaning challenges and maintenance needs. By understanding these differences, you can choose a carpet that not only complements your space but is also aligned with your cleaning capabilities and maintenance plans.
Carpet Cleaning Methods: Choosing the Right Approach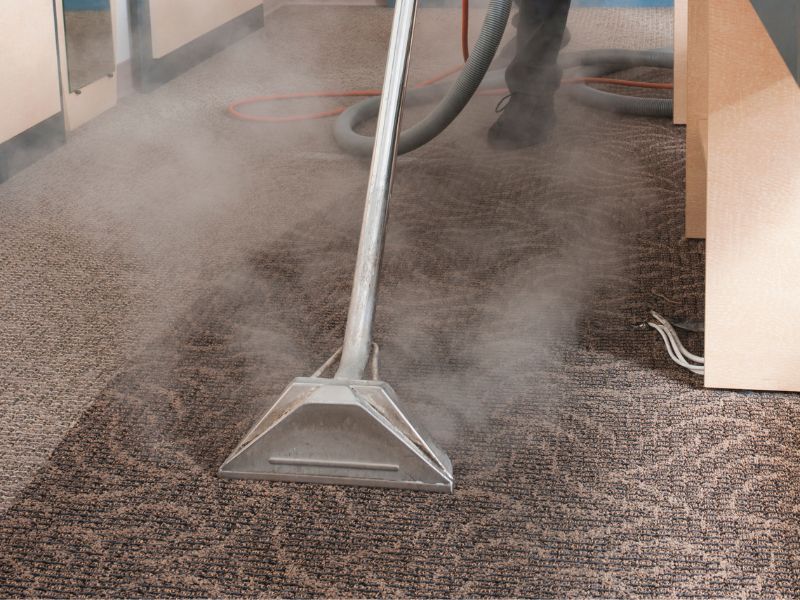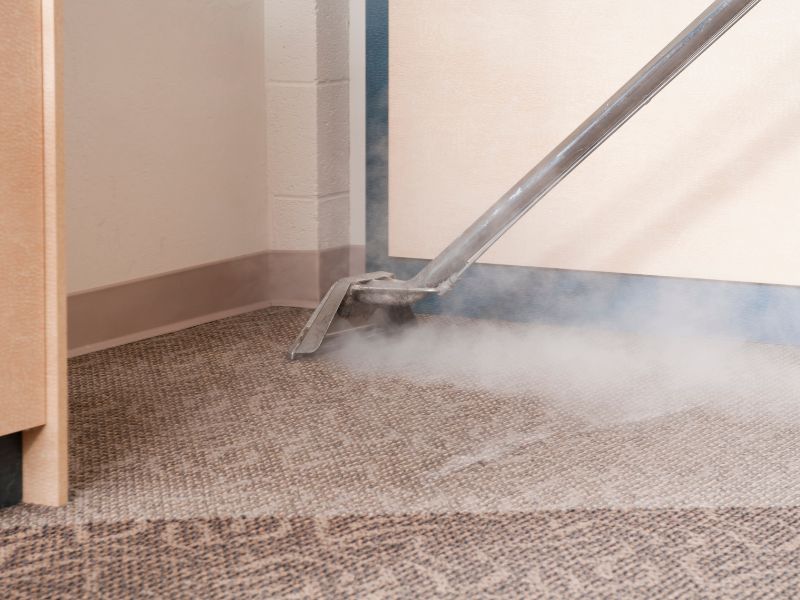 A crucial aspect of maintaining the longevity and appearance of commercial carpets is selecting the right cleaning method. Each technique has its strengths, and understanding these can guide you in making the best choice for your specific carpet type and usage.
Hot Water Extraction
Often referred to as steam cleaning, hot water extraction is a deep cleaning method ideal for removing embedded dirt and grime. It involves injecting hot water and cleaning agents into the carpet fibers and then extracting them along with the dissolved dirt. This method is particularly effective for heavily soiled carpets and is recommended for periodic deep cleaning rather than regular maintenance.
Dry Cleaning
Dry cleaning, using chemical compounds with minimal water, is a less invasive method, ideal for carpets that can be damaged by excessive moisture. It's a quick solution that doesn't require drying time, making it suitable for high-traffic areas where downtime is not an option. This method is effective for surface-level cleaning and is best for regular maintenance.
Shampooing
Carpet shampooing involves applying a foamy chemical and then using a machine to agitate the fibers, loosening dirt and debris. After the shampoo is dried, it's vacuumed away, taking the trapped dirt along. This method is suitable for most carpet types, especially those with a lot of dirt or stains. However, it requires thorough drying to prevent mold or mildew.
Bonnet Cleaning
Bonnet cleaning is a less aggressive method where a cleaning solution is applied to a pad (the bonnet) on a rotary machine, which is then moved over the carpet. It's good for surface cleaning and gives carpets a fresh appearance. However, it's not recommended for deep cleaning or heavily soiled carpets.
Encapsulation
A modern approach, encapsulation involves applying a solution that encapsulates and crystallizes dirt particles, which are then vacuumed away. This method is efficient, requires minimal water, and leaves no residue, making it an excellent choice for regular maintenance.
Steam Cleaning
Despite its name, steam cleaning uses vaporized water to clean carpets. The high temperature of the steam effectively breaks down dirt and kills bacteria and dust mites. This method is best for thorough cleaning and sanitizing, particularly in health-conscious environments like clinics or schools.
Each of these methods has its place in commercial carpet care. By understanding the specific needs of your carpet and the traffic it endures, you can choose the most effective cleaning method to keep your carpets looking their best.
Preventive Maintenance for Carpets: A Proactive Approach
Maintaining the elegance and longevity of your commercial carpets is not just about periodic deep cleaning; it's about adopting a proactive maintenance routine. Regular upkeep not only keeps your carpets looking pristine but also extends their life, ensuring a lasting positive impression on your clientele and a healthy environment for your employees. Let's explore some essential preventive maintenance strategies.
Regular Vacuuming: The First Line of Defense
The simplest yet most effective way to maintain your carpets is regular vacuuming. It effectively removes daily dirt and debris, preventing them from settling deep into the carpet fibers. For high-traffic areas, vacuuming daily is ideal, while less frequented spaces might require vacuuming only a few times a week. Remember, the longer dirt sits, the harder it is to remove, and the more it wears down your carpet.
Immediate Spill Management: Act Fast to Prevent Stains
Spills are inevitable, but their impact doesn't have to be. The key is immediate action. Blot, don't rub, to absorb the spill. Use a clean, dry cloth or paper towel, starting from the outside and working your way in to prevent the spill from spreading. For tough stains, use a carpet cleaner suitable for your carpet type, but always test it on a small, inconspicuous area first.
Entry Mats: Your Carpet's First Line of Defense
Placing entry mats at all entrances can significantly reduce the amount of dirt and moisture tracked onto your carpets. These mats act as a barrier, catching much of the grime that would otherwise find its way onto your carpet. Ensure these mats are regularly cleaned and maintained as well.
Furniture Pads: Protecting Your Investment
Furniture can leave indentations and wear marks on carpets over time. Using furniture pads under the legs of chairs, tables, and heavy equipment can distribute the weight more evenly, reducing the risk of damage. They're an inexpensive way to protect your carpets from unnecessary stress and prolong their lifespan.
By incorporating these simple yet effective preventive maintenance strategies, you ensure that your commercial carpets remain in top condition, reflecting the high standards and professionalism of your business.
Commercial Carpet Cleaning Frequency: Tailoring Your Cleaning Schedule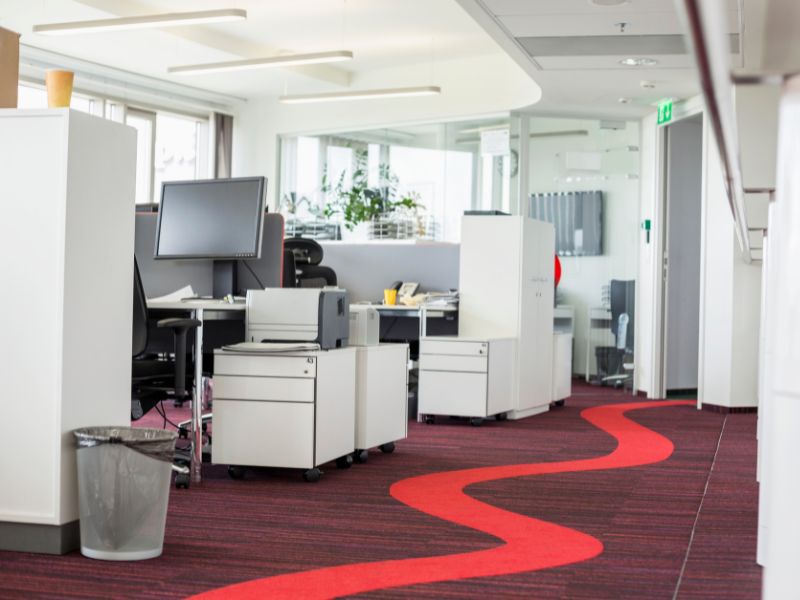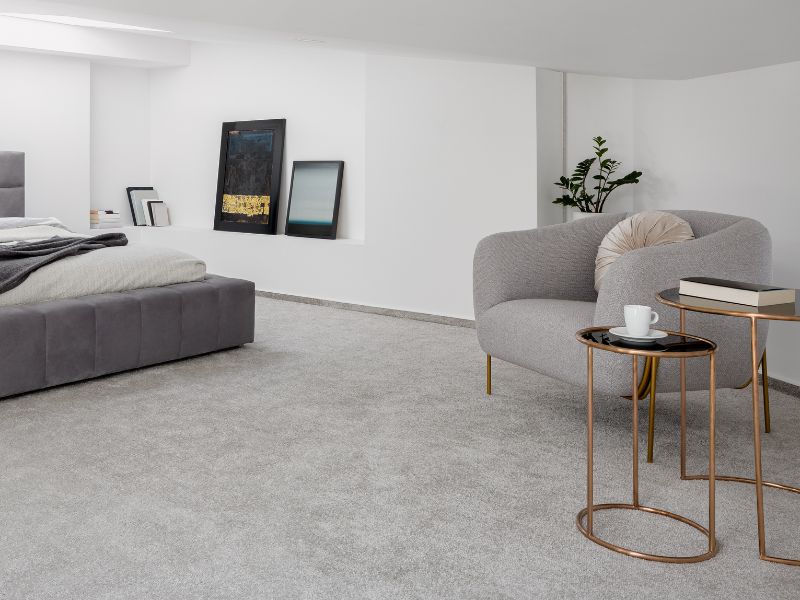 An essential aspect of carpet maintenance is determining the optimal cleaning frequency. This isn't a one-size-fits-all situation; various factors influence how often your commercial carpets should be cleaned. Understanding these elements enables you to create a customized cleaning schedule that keeps your carpets in peak condition, ensuring they always present a welcoming and professional appearance.
Factors Influencing Cleaning Frequency
Foot Traffic: The amount of foot traffic your carpets endure is a primary factor. High-traffic areas like lobbies, hallways, and common rooms may need more frequent cleaning – as often as every month or two – to remove dirt and maintain appearance.
Carpet Type: Different materials have different cleaning needs. Carpets with longer fibers or those made of natural materials like wool may require more frequent cleaning to prevent dirt accumulation and maintain their texture.
Color and Pattern: Light-colored carpets show dirt and stains more readily than darker or patterned ones and may require more frequent cleaning to maintain their appearance.
Location: Carpets in areas prone to spills, such as dining areas, or those near external entrances, where dirt and moisture are tracked in, will benefit from more regular cleaning.
Recommended Cleaning Schedules
Given these factors, here are some general guidelines for different scenarios:
High Traffic Areas (e.g., lobbies, corridors): These should ideally be vacuumed daily and deep cleaned every 1-2 months, depending on the level of use and soil accumulation.
Moderate Traffic Areas (e.g., general offices, conference rooms): Vacuuming 2-3 times a week with a deep clean every 3-6 months can be sufficient.
Low Traffic Areas (e.g., executive offices, meeting rooms): These areas may only need vacuuming once a week and deep cleaning every 6-12 months.
Special Areas (e.g., dining facilities, areas near entrances): These may require more frequent spot cleaning and a deep clean on a similar schedule to high traffic areas.
Remember, these are just guidelines. Your specific needs may vary based on your unique situation. Regular assessments of your carpets' condition and a flexible approach to maintenance will ensure optimal cleanliness and longevity.
Choosing the Right Cleaning Service: Your Guide to Professional Carpet Care
Selecting the right professional cleaning service is a decision that can significantly impact the longevity and appearance of your commercial carpets. While a do-it-yourself (DIY) approach may seem cost-effective for small stains or light maintenance, professional services are crucial for deeper, more comprehensive cleaning. Let's explore what to consider when choosing a service and when to opt for professional cleaning over DIY.
Criteria for Selecting a Professional Cleaning Service
Experience and Expertise: Look for a service with a proven track record in commercial carpet cleaning. Experienced professionals will understand the nuances of different carpet types and the best methods for cleaning them.
Certifications and Standards: A reputable cleaning service should have certifications from recognized industry bodies, indicating they adhere to high standards of quality and safety.
Equipment and Techniques: Ensure the service uses up-to-date equipment and techniques. Advanced methods like hot water extraction and encapsulation can provide a deeper clean than traditional methods.
Customized Solutions: Choose a service that offers tailored cleaning plans based on your specific carpet type, traffic levels, and business needs.
Eco-Friendly Options: If sustainability is a priority for your business, look for services that offer eco-friendly cleaning options.
Reviews and References: Check customer reviews and ask for references to gauge the reliability and effectiveness of the service.
DIY vs. Professional Cleaning
DIY Cleaning: Suitable for small, immediate tasks like spot-cleaning spills or regular vacuuming. It's a cost-effective way to handle minor issues but may not be sufficient for deep cleaning or tackling stubborn stains.
Professional Cleaning: Essential for thorough, deep cleaning, especially in high-traffic areas or for carpets with significant soiling. Professionals have the expertise, equipment, and solutions to address a wide range of carpet cleaning challenges, ensuring a deeper and more lasting clean.
Choosing the right cleaning service can make a substantial difference in maintaining your commercial carpets' appearance and longevity. While DIY methods have their place for routine maintenance, professional cleaning ensures a level of depth and thoroughness that is crucial for the overall care of your carpets.
Eco-Friendly Carpet Cleaning: Harnessing the Power of Non-Leaching Antimicrobials
As we continue to seek ways to reduce our environmental impact while maintaining high standards of cleanliness, non-leaching antimicrobials offer a promising solution in the realm of carpet cleaning. These advanced agents differ significantly from traditional cleaning products, providing a safer and more sustainable option for maintaining commercial carpets.
Health Advantages of Non-Leaching Antimicrobials
One of the primary benefits of using non-leaching antimicrobials in carpet cleaning is their positive impact on health. Traditional antimicrobials can sometimes contribute to indoor air pollution and pose risks to those with allergies or respiratory issues. Non-leaching antimicrobials, on the other hand, remain fixed to the carpet fibers, significantly reducing the potential for air contamination. This means a safer environment for everyone, especially in spaces frequented by children, the elderly, or those with health sensitivities.
Long-Term Protection in Humid Climates
In humid climates like Singapore, carpets are particularly susceptible to bacteria, mold, and mildew growth. Non-leaching antimicrobials provide long-lasting protection against these common issues. By inhibiting microbial growth at the source, these treatments help maintain the hygienic quality of carpets over extended periods, reducing the need for frequent, intensive cleaning and thus extending the life of the carpets.
Safety and Environmental Impact
The safety profile of non-leaching antimicrobials is a major advantage. Unlike some traditional cleaning agents that can release harmful substances into the environment, non-leaching antimicrobials stay bound to the carpet fibers. This not only ensures a safer cleaning process but also aligns with eco-friendly practices. By minimizing the release of chemicals into the environment, these antimicrobials support the goal of sustainable, responsible business operations.
In summary, non-leaching antimicrobials represent a step forward in eco-friendly carpet cleaning. Their ability to provide effective microbial control, combined with their health benefits and reduced environmental impact, makes them an ideal choice for businesses looking to uphold both cleanliness and sustainability standards.
Key Takeaways and Next Steps in Commercial Carpet Care
In this comprehensive guide, we've explored the pivotal aspects of commercial carpet cleaning. From understanding the diverse materials and construction of carpets to the various types and their specific maintenance needs, we've covered crucial factors that influence cleaning methods and frequency. We delved into different cleaning techniques, highlighting their suitability for different scenarios, and emphasized the importance of preventive maintenance to prolong carpet life. The discussion on selecting the right cleaning service provided insights into making informed choices for professional carpet care. Lastly, we focused on eco-friendly carpet cleaning, particularly the benefits of non-leaching antimicrobials, underscoring their health and environmental advantages.
Now, it's time to turn these insights into action. Whether you're considering a DIY approach for smaller tasks or seeking professional expertise for more comprehensive care, remember that well-maintained carpets are a cornerstone of a professional and inviting commercial space. If you're ready to take the next step towards expert carpet care, or if you have any questions about the processes and practices mentioned, don't hesitate to reach out.
Contact us at +65 6241 9443 or email info@bigred.com.sg for professional advice, service inquiries, or to schedule a cleaning session. Our team of experts is equipped to provide you with tailored solutions that align with your specific carpet care needs, ensuring your commercial space remains not only aesthetically pleasing but also a healthy environment for all.
Embrace the journey to impeccable carpet care and create a lasting impression with your pristine commercial space.