Rugs have become an increasingly popular way to add style and comfort to any space, and with the wide range of materials available, there is a rug to suit every taste and budget. From traditional wool and silk to synthetic fibers and modern alternatives like viscose, each type of rug has its own unique properties and challenges when it comes to cleaning and maintenance. In this article, we will focus on the properties of viscose and examine how this material can be both beautiful and challenging to care for. By understanding the properties of viscose and the best practices for cleaning and maintaining it, you can enjoy the luxurious texture and sheen of your rug for years to come.
Types of Rug Fibers
Wool Rugs
Wool is a traditional and popular material for rugs. It is naturally stain-resistant and durable, making it a good choice for high-traffic areas. However, wool can be prone to shedding and can require frequent vacuuming to maintain its appearance.
Silk Rugs
Silk rugs are prized for their luxurious texture and sheen. They are often more delicate than wool rugs, and require special care to clean and maintain. However, when properly cared for, silk rugs can last for generations.
Cotton Rugs
Cotton rugs are lightweight and easy to clean, making them a popular choice for areas like kitchens and bathrooms. However, cotton can be prone to fading and shrinking, and may not be as durable as other materials.
Synthetic Fibers
Synthetic fibers like nylon and polyester are becoming more popular for their durability and affordability. They are often designed to mimic the look and feel of natural fibers, but may not be as luxurious or long-lasting.
Viscose
Viscose, also known as art silk or rayon, is a popular alternative to silk due to its similar appearance and texture. It is often used in modern or contemporary rug designs, where its sheen and softness can create a striking contrast with more traditional materials like wool. However, viscose can be difficult to clean and maintain. It is prone to water damage and can lose its luster if exposed to too much moisture. Additionally, viscose rugs can be more prone to fading and staining than other materials.
How to Clean Viscose Rugs
When it comes to cleaning viscose rugs, it is important to take extra care to avoid damaging the fibers. Here are some tips to keep in mind: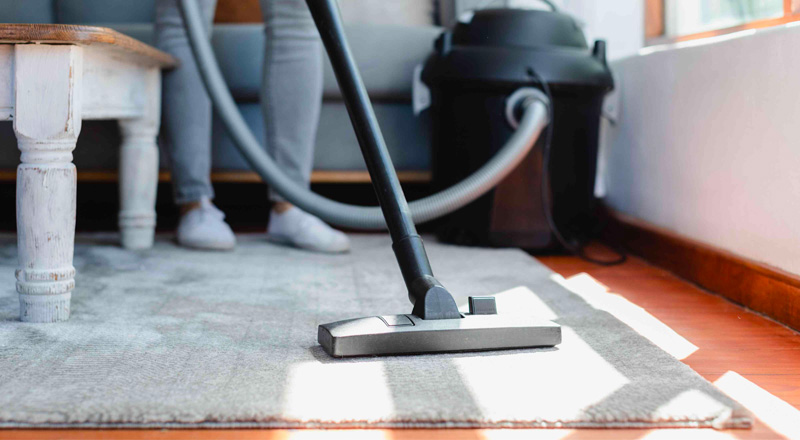 Vacuum regularly
Regular vacuuming can help prevent dirt and debris from becoming embedded in the rug fibers. Use a vacuum with a low-power setting or a handheld vacuum to avoid pulling at the fibers.
Spot clean spills immediately
If a spill occurs, use a clean, white cloth to blot the area immediately. Avoid rubbing the spill, as this can push the liquid deeper into the fibers.
Avoid water
Viscose rugs should be cleaned with a dry cleaning method rather than with water. Wet cleaning can cause the fibers to shrink, warp, or lose their sheen. If professional cleaning is required, be sure to choose a dry cleaning service that is experienced in handling delicate materials like viscose.
Rotate the rug
To prevent uneven wear and fading, rotate the rug periodically so that different areas receive equal amounts of sunlight and foot traffic.
In conclusion, choosing the right rug material is an important decision that can have a big impact on the overall look and feel of your space. While viscose can offer a beautiful and luxurious option for modern or contemporary designs, it is important to understand the challenges that come with cleaning and maintaining this material. By following the tips outlined in this article and working with a professional rug cleaning service when necessary, you can ensure that your viscose rug stays looking its best for years to come. With the right care and attention, your rug can be a beautiful and functional addition to your home or office.