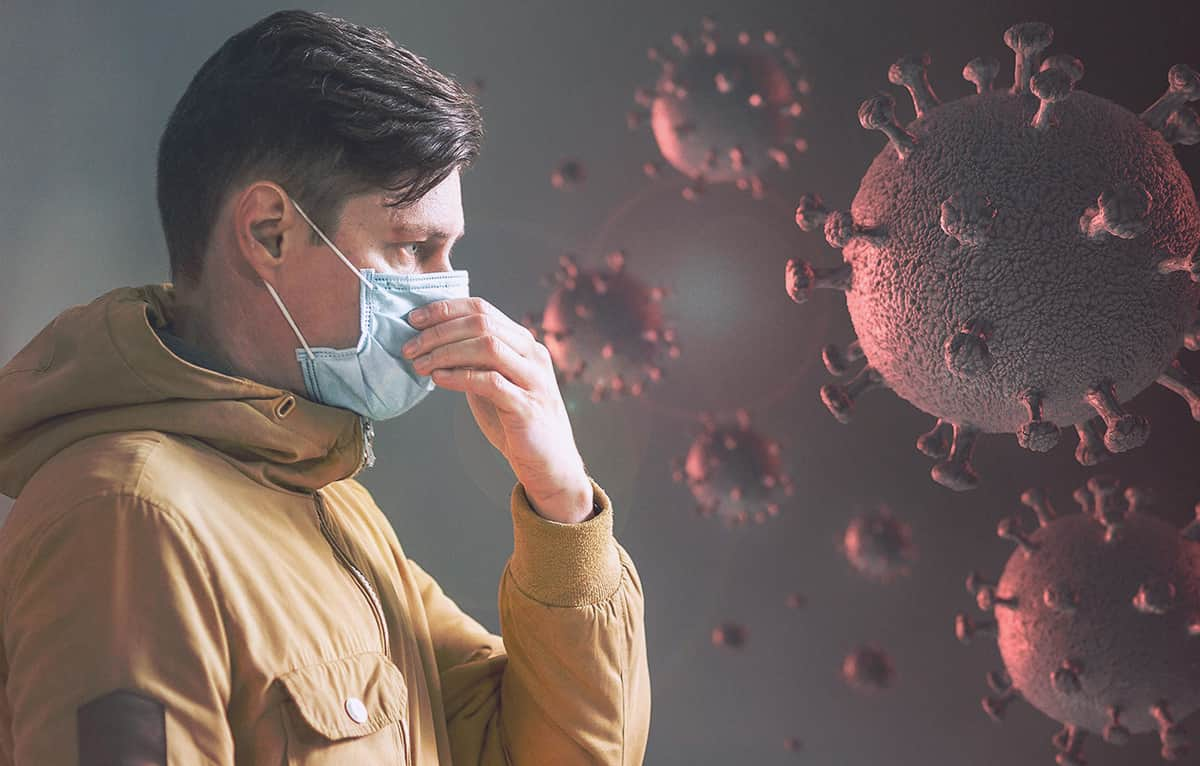 For all Singaporean property managers and business operators alike, being informed that a positive Covid-19 case has passed through your building or commercial is absolutely not a 'for your information only' event. Because, unfortunately, the tangible risk of infection is not transient and does not leave again with the infected person in question. A person that is unknowingly positive with the Covid-19 virus will inevitably leave a residual trail of potentially infectious material behind them wherever they go, hence the need for an extended period of mandatory quarantine or compliance with a 'Stay at Home Notice' to prevent this happening. Otherwise, a Covid-positive individual will continue to leave an invisible trail of highly contagious genetic material in their path that will still pose a tangible risk of cross-infection for hours or even days after the infectious person in question has been and long-gone!
This residual trail of contagious material in the areas that the infectious individual has passed through will pose a tangible risk of infection to others in two distinct ways:
Primary Risk of Cross Infection via Airborne Transmission
After several months of coping with a Covid-19 pandemic, the scientific research gathered during this period now clearly demonstrates that one of the most likely ways the virus will be passed from one person to another is via airborne transmission.
When people (not wearing a mask) talk, shout, sing, cough, or sneeze they will inevitably launch huge numbers of airborne aqueous droplets from their respiratory tracts into the air. Some of these droplets will be quite large and visible to the naked eye, whilst many, many more will be microscopic in size. Irrespective of the size of the droplet, each and everyone coming from a Covid-19 positive person's respiratory tract will be carrying millions of potentially infectious viral particles.
At this juncture, one of two things will happen, the larger droplets along with their viral load will settle due to gravity and deposit the infectious viral material being transported onto objects or surfaces in the vicinity, immediately rendering them contagious. However, the smaller microscopic droplets will likely dry in the air leaving their infinitesimally small viral cargo suspended in the air. These viral particles have now been proven to remain suspended within indoor air currents for hours and in some cases even days. During their period of airborne suspension, these viral particles are easily respirable and therefore highly contagious for anyone else passing through the area even hours or days after the Covid-19 positive person has departed.
However, the risk of contagion does not remain solely in the air, because over a period of time, due to gravity, even the smallest viral particles will settle downwards until they are deposited onto objects and surfaces, once again ready to infect any unsuspecting passer-by that subsequently touches it. Here is how antimicrobial surface coatings can eliminate the risks of cross-contamination.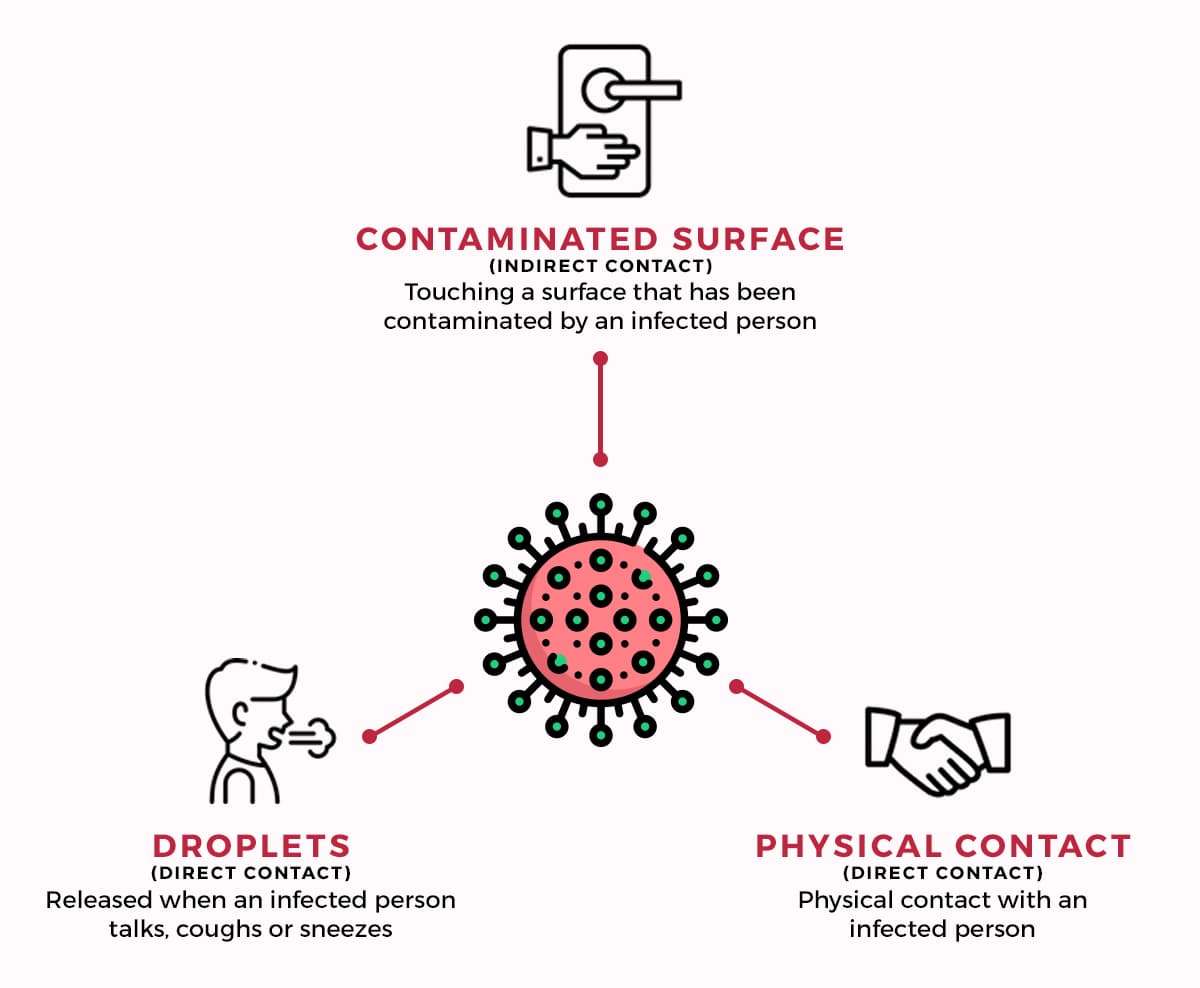 Secondary Risk of Cross Infection via Contaminated Surfaces and Objects
Based on the information on airborne transmission above, we now know that there are two ways for surfaces and objects to become contaminated with the Covid-19 virus and therefore become a potential risk for the indirect transmission of the virus from one person to another. The two ways surfaces can become potentially contagious are:
By direct contamination from a person that is Covid-19 positive and shedding the virus to physically touch a surface and deposit viable and infectious viral material directly onto the surface in question
By indirect contamination following the deposition of previously airborne viral particles onto surfaces and objects as they fall from the air due to gravity
Irrespective of how contamination occurs, the scientific evidence now indicates that the Covid-19 virus can remain viable and therefore infectious on various surfaces and objects for different lengths of time depending upon ambient temperature and relative humidity as well as the physical nature of the fabric or material of the surface itself.
Independent studies have shown that the Covid-19 virus can remain infectious on stainless steel and plastic surfaces for up to 72 hours yet only 4 hours on paper and cardboard. Therefore, with a mixture of surface types in any physical environment, comes a variety of risk levels from cross-infection via contaminated surfaces and objects. However, the virus that causes Covid-19 can be destroyed and eliminated by thorough routine cleaning, sanitising and disinfection.
Routine Preventive Cleaning and Disinfection
As good citizens, we all have a civic responsibility to help combat the spread of the Covid-19 virus within our communities by undertaking relatively simple routine preventive measures, with which we have all become familiar with over the last few months.
Basically, as a precautionary measure, all surfaces that will be touched regularly by large numbers of people should be thoroughly cleaned and sanitized on a regular basis. Of course, priority should be given to all 'high touch' surfaces such as door handles, push plates and bars, service countertops, tables and chairs, ATM machines, and card payment terminals including touch screens. Additionally, all shared facilities such as changing rooms, restrooms, toilets, sinks, and taps must all be regularly cleaned, sanitized and then as recommended by Singapore's National Environment Agency (NEA) treated with a disinfectant spray.
However, as we have seen above, it is now clear that as quickly as we clean and sanitize surfaces, they could become contaminated again almost immediately afterward either by direct contamination by being touched or indirectly from airborne contamination by a Covid-19 positive individual that is actively shedding the virus into to their surroundings. Therefore, in addition to regular cleaning, sanitizing, and disinfection of all surfaces and objects to mitigate this risk, it would be wise to consider the additional surface protection and peace of mind that can be obtained from using a long term anti-microbial surface disinfectant.
As this is a somewhat specialised operation it might be best to consult with a Singapore based professional cleaning and disinfection company. The easiest way of locating the best professional cleaning and disinfection services on offer in Singapore.
In Part Two of this series, some detailed technical guidance will be provided by a company offering a professional disinfection services in Singapore on the proactive steps that need to be taken as soon as it is discovered that a Covid-19 positive individual has entered your property.
Related Posts