What is Monkeypox?
As far as COVID-19 goes, we have much information on how it transmits person-to-person, its symptoms, treatment, and prevention. However, the emergence of Singapore's first local case of Monkeypox on the 6 July 2022 has perked our ears given our prior experience with the ongoing pandemic climate – So, do we have to worry about yet another potential infectious virus in Singapore?
Monkeypox is a rare disease caused by infection with the Monkeypox virus. The first human case of Monkeypox was recorded in 1970; since then, most of the cases have been limited to central and western African countries.
However, in early 2022, several cases of the virus were reported in the United States and Europe – regions where Monkeypox had not been previously detected. This sudden detection of the virus where it is not endemic, among people without any obvious connections to one another and no history of travel to countries fighting a Monkeypox outbreak – is an early sign for health authorities to act swiftly to contain the virus. 
This month, the virus has made it through our borders. 
How does Monkeypox spread? 
Originally detected in colonies of monkeys kept for research, the source of Monkeypox remains unknown. Earlier it was alleged that only contaminated rodents and primates could infect humans, but on the contrary, human-to-human transmission is entirely possible. While Monkeypox is not as quickly transmitted as COVID-19, it can spread from human to human in the following ways: 
Direct contact with an infectious rash, scab, or bodily fluids
Respiratory droplets during extended face-to-face contact
Contact with items (such as clothing or linens) that previously touched the infectious rash or body fluids
Consumption of meat from an infected animal
Scratched or bitten by an infected animal
The virus can spread from when the symptoms start until the rash has completely healed and the skin has rejuvenated. This typically takes between 2 to 4 weeks. You cannot spread the virus to others if you do not have any symptoms. 
What are the Monkeypox symptoms? 
Part of the same family as Smallpox, the Monkeybox symptoms resemble Smallpox symptoms, only milder. Here are some of the symptoms: 
Fever
Body & Head Aches 
Swollen lymph nodes
Chills
A general feeling of exhaustion
Pimple-like blisters and rash on the inside of your mouth, hands, and other body parts
An infected person may not experience all of the above symptoms; where sometimes, the illness does not go beyond a rash. In a 2 to 4 week period, the rash can undergo several stages before ultimately healing.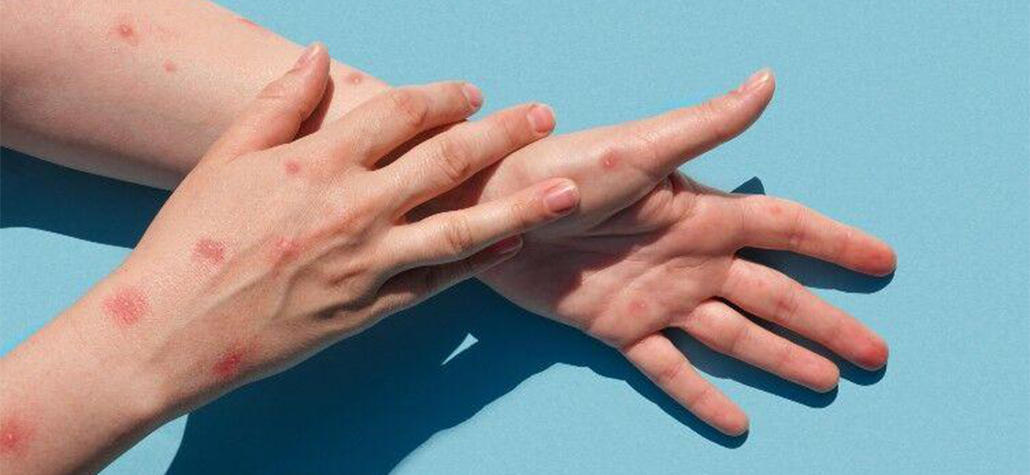 What should you do if you have Monkeypox? 
As per the current protocol in Singapore, anyone who has tested positive for Monkeypox is warded at the National Centre for Infectious Diseases (NCID). Subsequently, all close contacts are identified and isolated for 21 days. 
Monkeypox is a self-limiting illness, and while there are no proven treatments or vaccines, as an employer or a housemate, where a person working or living with you is identified positive or as close contact, it would be advisable to disinfect the workplace or home properly. This will aid in avoiding any further spread of the virus in the environment. 
You can contact Big Red Pte Ltd for professional disinfection of your premises using EPA-Registered disinfectants. Until then, it is vital that you adhere to the following guidelines: 
Avoid using items or areas that are potentially infected, i.e., towels, washcloths, drinking glasses, common utensils, meeting rooms, mattresses, etc.
Frequently clean & sanitize high-touch surfaces, like counter tops, light switches
Thoroughly disinfect common toilets, including fixtures such as faucets, toilet seats, etc.
For workplaces, it would be advisable to isolate the premises until professional disinfection is carried out.
For hotels with tested positive guests, isolate the guest room for proper disinfection.
Wear a face mask if you are in close contact with someone who had symptoms
Can you prevent the spread of Monkeypox? 
Similar to the COVID-19 virus, the Monkeypox virus is a negatively charged enveloped virus. Suppose you were to rank microorganisms in a hierarchy of being susceptible to specific disinfection procedures in the language of microbiology. In that case, this is known as 'The Hierarchy of Susceptibility' and is illustrated in the graphic below: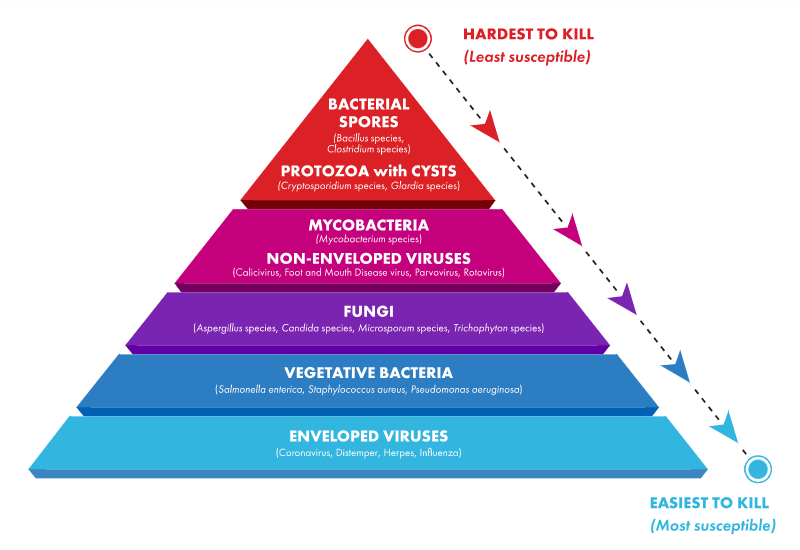 Considering that the Monkeypox virus is one of the easiest to inactivate, protection to prevent the risk of cross-contamination is also possible by using a suitable anti-microbial surface coating. 
Big Red's product – BR Shield – is an option for the likes of property owners, hotel operators, and facility managers to consider applying on the high-touch points in their respective premises. A single application of this highly efficient coating not only provides an almost instantaneous 99.99% reduction in pathogens but also provides continuous protection 24/7 for over 90 days. 
While health authorities conclude that the current risks of a Monkeypox pandemic among the general public are low, precautions such as the BR Shield Surface Protection can be adopted for peace of mind. 
Importantly, if you are experiencing any symptoms outlined above, please consult your doctor, and for your disinfection needs, you can contact the Big Red Team at 6241 9443 or via email at info@bigred.com.sg.
Related Posts: