Singapore is one of the most renowned centres for safe and secure banking in the world. So it should come as no surprise that one of Singapore's largest retail banks, when confronted with a pandemic crisis created by a highly contagious COVID-19, are in turn banking on Big Red Singapore's leading professional cleaning and disinfection contractor to undertake the cleaning and long term disinfection of all their 'high touch' surfaces in each and every branch across the country.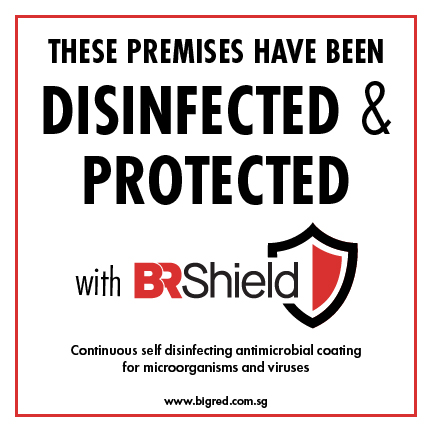 Big Red have been successfully delivering professional decontamination and disinfection services in Singapore since 1986. Now they are about to provide a very specific long-term disinfection service using BRShield.
BRShield™ is Applied to the Bank's High Touch Surfaces
The COVID-19 virus has been shown to spread from person to person (by cross-contamination) via infected surfaces. Evidence suggests the virus can not only survive but remain highly infectious on glass, plastic and stainless- steel surfaces for at least three or four days. This is of great concern to a bank where a large number of customers touch the same surface one after another every hour. Keeping 'high touch' surfaces such as the buttons and interactive displays panels, chairs to countertops, switches door knobs can be particularly challenging because even a surface thoroughly cleaned and disinfected every few hours with a traditional short-lived chemical treatment could possibly become re-infected immediately afterwards by the next user carrying and spreading the virus. Clearly, it is not practical to disinfect such 'high touch' surfaces after each customer; so what makes BRShield different?
The reason one of Singapore's most prestigious banks has selected BRShield over and above all other disinfectants on the market is because of its guaranteed residual long-term antimicrobial properties. A surface treated with BRShield remains disinfected for over 180 days following treatment.
How BR Shield Works
In times of crisis, just like Singapore's banks, you can trust and rely on Big Red!
Related Posts