With SARS-COV-2 still spreading readily in our communities, now is not the time to become complacent when it comes to cleaning, sanitisation and disinfection in our homes and workplaces. Even as vaccination numbers climb, there are little signs showing that infection will disappear, rather we will have to live with the virus while keeping our surroundings disinfected to reduce the rate of spread of the virus. However, in the process of cleaning and disinfecting our premises, we have given little thought to the risks posed by the products that we are using.
Many think that products that they buy on the shelf are environmentally friendly as governments have approved them for sale, however, we are constantly learning more about the potential health problems of cleaning, sanitizing, and disinfecting products. Only the active ingredient chemicals in sanitisers, disinfectants, and fungicides that kill bacteria, viruses, or mold have to be listed on the product label. Manufacturers are not required to list all of the ingredients on cleaning product labels. Words such as "natural," "non-toxic," and "green" that appear on cleaning product labels are poorly regulated by the government. Researchers have found that cleaning products labelled with these terms often have as many hazardous chemicals as conventional cleaning products. These gaps in information on cleaning product labels make it difficult for the consumer to make wise choices when purchasing cleaning products.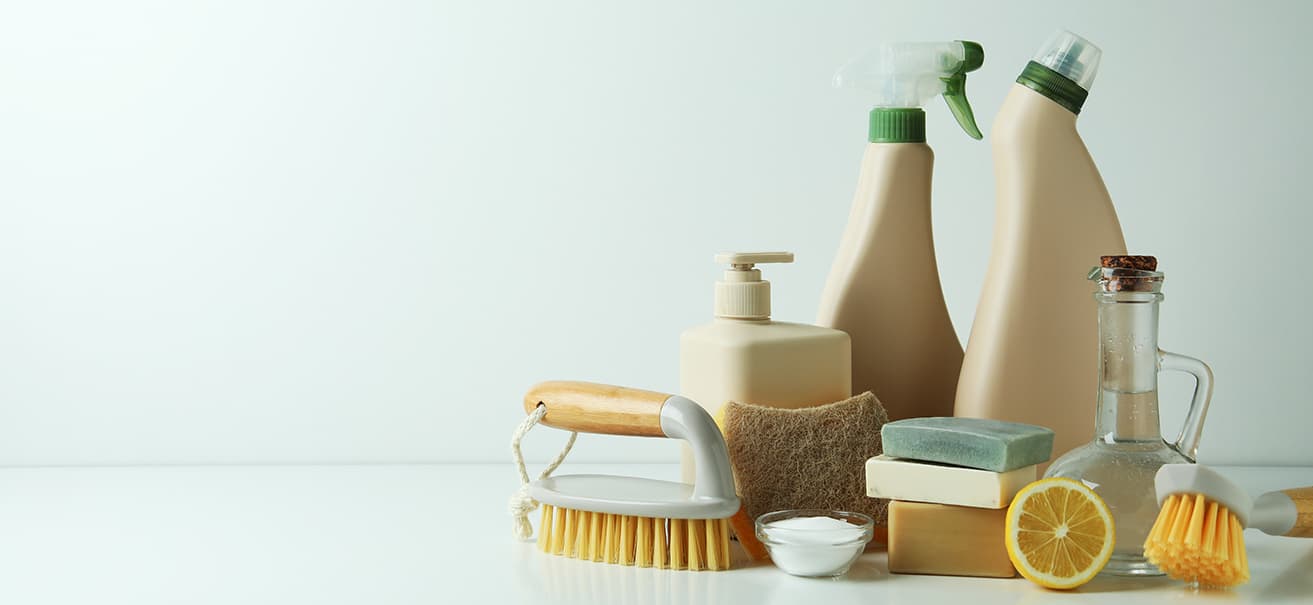 Why Green Cleaning?
Green cleaning is the process of choosing cleaning products that are better for both people and the planet. Switching to green cleaning products is good for the health and wellbeing of your people, and it also prevents unnecessary chemicals from being released into the environment. For some, green cleaning means that they only use substances like baking soda, vinegar, and lemons to clean the home surfaces. These are considered to be natural green cleaners. However, there are more and more cleaning products that are appearing on the market that are free of chemicals that can impact the environment and are also stored in biodegradable or recyclable packaging.
The reason this switch may be important is the acute and chronic health effects that may arise due to our increasing use of cleaning, sanitizing, and disinfecting chemicals which are inhaled into our lungs or absorbed through our skin. When these chemicals rapidly affect our health and cause immediate medical problems such as an asthma attack it is known as an acute health effect. On the other hand, those who do not have acute effects may have the chemicals build up in their bodies over long periods of time due to repeated exposure. Years later this exposure can result in cancer, asthma, lung disease and long-term health effects also known as chronic health effects. Chemicals also make their way into air and dust and continue to expose children and staff overtime.
How Big Red Stays Green
Here at Big Red, we want to ensure that we do our part to not only look after the health of our clients but to also prevent the leaching of any harmful chemicals into the environment when we disinfect surfaces. Our BRStrike disinfection process uses ionised aerosolised hydrogen peroxide that attaches itself to surfaces and kills pathogens on the surface. The ionised particles also quickly attach themselves to surfaces and do not linger in the air for extended periods, reducing the chances of inhaling large quantities of the aerosolised disinfectant. The disinfectant solution is bleach-free and non-corrosive, requiring no rinsing or removal after application as it is converted to oxygen and water vapour as it disinfects a surface, minimising the impact, if any, on the environment.
Big Red's BRShield is a durable long-lasting chemically bonded residual antimicrobial coating containing a quaternary based organo-silane compound. This scientifically proven chemical formula is unique in that it bonds chemically at the molecular level onto any surface to which it is applied. Because of its unique mode of action and inability to migrate from a treated surface, our technology is the obvious choice to minimize environmental contamination and the development of resistant organisms. Our products are safe for the environment, humans, and pets. They are non-dissipating, non-leaching, non-migrating from the applied substrate and cannot be absorbed by micro-organisms or by humans.
What Can You Do?
Although some may want to dispose of their current cleaning products if they learn they are dangerous, this is more wasteful than beneficial. You should ensure that any cleaning agent that produces strong odours should be used in well-ventilated areas and you can wear a mask while applying the product for added protection. Once you have depleted your stock of disinfectants it is important to look for environmentally friendly cleaners.
Cleaners with the Singapore Green Label have been assessed to have low environmental impacts throughout their usage lifecycle and hence would be ideal cleaners. If the product does not carry a certification logo you can instead look for products that have all their ingredients listed, products that do not have signal words such as 'Danger' on the label, non-aerosol based cleaners, and cleaners that have low to no chemical odours during usage. These products while no guaranteed to be completely safe will help minimise the health impacts associated with the usage of the cleaning products.
Whatever choices you make about your cleaning supplies and practices, there is a huge variety of environmentally friendly choices for green cleaning. With a little research, you may be able to green up your household cleaning routine to create a healthier, safer environment.
Find out more on how you can protect your surfaces with Antimicrobial Coating.
Related Posts: