Germs, ubiquitous and often unseen, have a profound impact on the indoor environments we inhabit. In Singapore, a city-state known for its cleanliness and meticulous urban planning, understanding and managing germs in buildings is of paramount importance. This article delves into the specific considerations for germs in indoor spaces within Singapore, highlighting key factors that influence their presence and offering insights for maintaining healthy environments.
History of Germs in Indoor Environments in Singapore
Singapore's history is intertwined with its efforts to combat germs and infectious diseases. From its early days as a bustling trading port to its current status as a global city, Singapore has prioritized sanitation and hygiene. The legacy of these initiatives can be seen in the city's modern infrastructure and comprehensive public health measures, making it a benchmark for germ management in urban environments.
Assessing Germ Contamination
In Singapore, the assessment of germ contamination is meticulously conducted to uphold the city's high standards of cleanliness. Government agencies, along with private environmental consultants, employ advanced techniques for sampling and analysis. These assessments ensure that indoor environments, whether in residential, commercial, or public spaces, meet stringent hygiene standards.
Buildings as Microbial Reservoirs
Despite Singapore's reputation for cleanliness, buildings here are not immune to microbial proliferation. The city's tropical climate, combined with high humidity levels, creates favourable conditions for germs to thrive. Air conditioning systems, commonly used to combat the heat, can inadvertently foster microbial growth if not properly maintained. Vigilant management of building systems is crucial to preventing germ reservoirs.
Factors Affecting Microbial Activity
Singapore's climate, characterized by high temperatures and humidity levels, significantly influences microbial activity in indoor environments. The city's exposure to both UV and visible light, as well as its consistent moisture levels, can exacerbate germ growth. Additionally, the choice of surface materials in buildings, pH levels, and the presence of biofilms all play vital roles in determining the types and abundance of germs in Singapore's indoor spaces.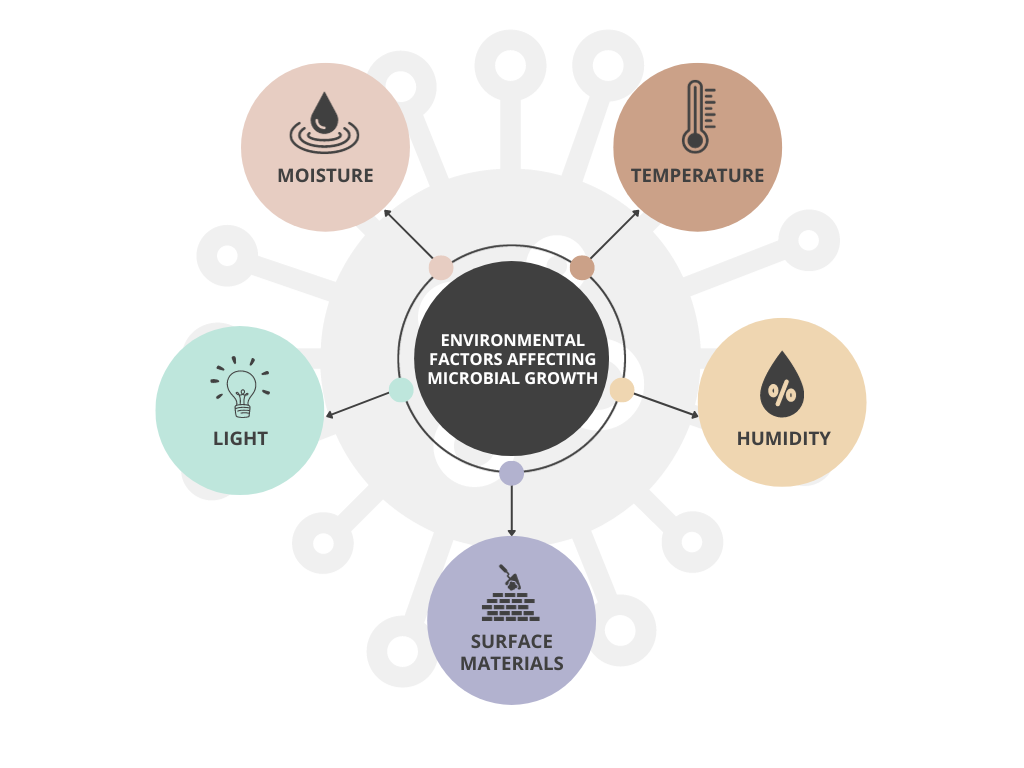 Distinguishing the Living from Inactive
Differentiating between active and inactive germs is a crucial aspect of managing indoor environments in Singapore. Many microorganisms may exist in a dormant state, posing minimal risk to human health. Understanding this distinction allows for targeted mitigation efforts, ensuring that resources are allocated efficiently.
Air, Surfaces & Infections in Singapore
Airborne transmission of germs remains a concern in Singapore's indoor spaces, particularly in densely populated areas. Proper ventilation and filtration systems are critical in mitigating this risk. Additionally, surfaces commonly touched by occupants, such as elevator buttons and door handles, require regular cleaning and disinfection to prevent the spread of infections.
Are All Germs Harmful?
While some germs pose a direct threat to human health, many play beneficial roles in natural processes. A balance must be struck between managing harmful pathogens and preserving the ecological diversity of microorganisms. This nuanced approach ensures that indoor environments remain healthy and sustainable.
Adaptation of Germs to Singapore's Built Environment
Singapore's rapid urbanization and unique climate present distinct challenges for managing germs in indoor spaces. Germs are remarkably adaptable and can exploit new niches within the built environment. Understanding these dynamics is essential for developing effective long-term management strategies tailored to Singapore's specific conditions.
The Cleaning Industry: A Crucial Player in Germ Management
In Singapore, the cleaning industry is indispensable in upholding the city's standards of cleanliness. Professional cleaning services, equipped with specialized knowledge and technologies, play a pivotal role in managing germ populations. Their expertise is instrumental in creating and maintaining healthy indoor environments for Singapore's residents and visitors.
Managing germs in buildings is a multifaceted endeavour, especially in a city-state as dynamic and diverse as Singapore. By recognizing the specific challenges and opportunities presented by Singapore's climate and urban environment, we can develop strategies that ensure indoor spaces remain healthy, safe, and conducive to the well-being of its inhabitants. Through a concerted effort involving assessment, prevention, and maintenance, Singapore continues to set the bar for germ management in urban environments worldwide.