Water damage can wreak havoc on properties, causing not only physical destruction but also emotional distress for the owners. When faced with such a situation, it's crucial to enlist the services of a professional water damage restoration company like Big Red. However, not all restoration companies are created equal, and understanding the intricacies of the restoration process is paramount. Mistakes in the restoration process can lead to further damage, exacerbating an already challenging situation.
Thorough Inspection
One of the most common pitfalls in water damage restoration is the failure to conduct a comprehensive inspection. Many companies overlook the importance of knowing where the water has travelled, which materials have been affected, and what the moisture readings indicate. At Big Red, we prioritize a meticulous inspection process. Our experts are trained to identify hidden pockets of moisture, ensuring that no potential issues are left unaddressed.
Operational Prowess
Installing adequate air movement on the first day is crucial to preventing secondary damage, such as mold growth. Inadequate equipment or outdated technology may hinder the restoration process. A professional restoration company should invest in cutting-edge drying equipment, ensuring that they have the equipment power and capacity needed to efficiently restore your property. It is also important to calculate the precise number of equipment required, guaranteeing a swift and effective restoration process.
Safety Training and Health Considerations
Neglecting safety protocols can lead to accidents and further harm to the property. At Big Red, safety is a top priority. Our technicians undergo rigorous training in safety procedures, and we adhere to industry standards to create a secure working environment. We also take the necessary precautions to protect your health and well-being during the restoration process.
Professional Certifications
Not all restoration companies possess the necessary certifications and training to perform the job effectively. While anyone can remove wet materials, it takes a true professional to dry materials in place. Restoration technicians should be certified and continuously trained in the latest techniques and technologies in water damage restoration. Big Red brings a wealth of expertise to every project, ensuring a thorough and precise restoration process.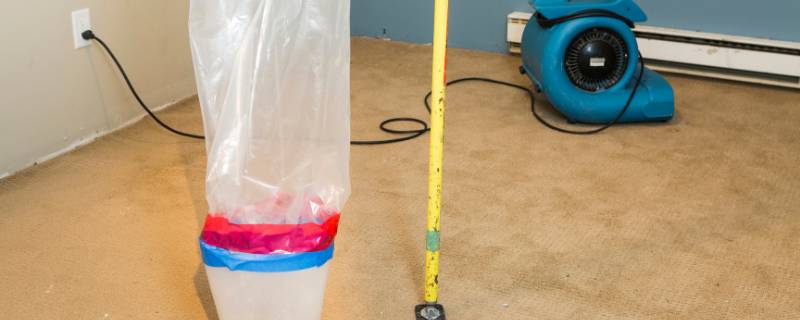 Understanding Psychrometry and the Science of Drying
Restoring a water-damaged property requires a deep understanding of psychrometry—the science of understanding the relationship between humidity, air flow, and temperature in an affected environment. This knowledge is instrumental in achieving optimal drying conditions – ensuring an ideal environment for efficient and effective drying.
Addressing Physical and Emotional Loss
Water damage not only causes physical loss but also emotional distress for property owners. It's essential for restorers to approach the situation with empathy and support. At Big Red, we understand the emotional toll that water damage can take. Our team combines technical expertise with a compassionate demeanour, ensuring that we not only restore your property but also provide the support you need during this challenging time.
Choosing the right water damage restoration company is paramount to a successful recovery process. At Big Red, we stand out for our commitment to excellence in every aspect of the restoration process. Trust us to restore your property with care, precision, and expertise!