Coronaviruses are a family of viruses that includes the SARS-CoV-2, the virus that causes COVID-19
SURFACE
EXAMPLES
DAYS or HOURS
Metal
Doorknobs, Jewelry, Silverware
5 Days
Glass
Drinking glasses, Mirrors, Windows
Up to 5 Days
Ceramics
Dishes, Pottery, Mugs
5 Days
Paper
Newspaper, Magazines
Up to 5 Days
Wood
Furniture, Decking
4 Days
Plastic
Milk bottles, Bus seats, Elevator Buttons
2-3 Days
Stainless Steel
Refrigerators, Pots/pans, Sinks, Water bottles
2-3 Days
Cardboard
Shipping boxes
1 Day
Aluminum
Soda cans, Tinfoil, Water bottles
2-8 Hours
Copper
Pennies, Teakettles, Cookware
4 Hours
Food/Water
Doesn't seem to spread through food, and has not been found in water.
This information is for your reference only and is changing constantly.
Sources: CDC, FDA, Medical Review: Brunilda Nazario, MD, 03/24/2020.
A recent paper published by the US CDC & FDA claims that COVID-19 can survive on various surfaces for days.
Interrupting indirect transmission can only be achieved by eliminating the virus once it has left its previous host and is invisibly lying in wait on contaminated surfaces ready to infect further victims with this deadly disease. Left unchecked, the Coronavirus has been shown to remain invisibly and dangerously infectious on any surface, hard or soft, for days. Thereby allowing it to infect many more potential victims of the disease.
About BRShield™
BR Shield™ is a revolutionary disinfectant spray that uses bonded anti-microbial technology. When applied to surfaces, it forms an odourless and invisible positively charged polymer that attracts, electrocutes and ruptures, a microbe's negatively charged cell membrane.
Conventional chemical disinfectants can, to a certain extent, kill and reduce the number of pathogens present, however once the solution dries, any new pathogens reintroduced can survive and proliferate quickly, returning to unsafe levels.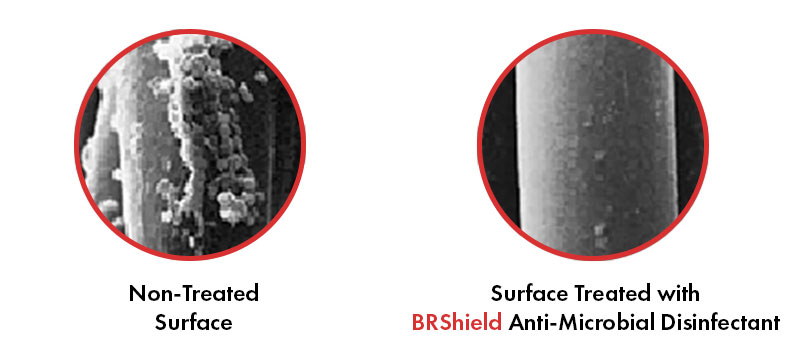 BRShield™ provides treated surfaces with both immediate disinfection and long-term antimicrobial protection. This will inactivate viruses as well as kill and inhibit the proliferation of pathogenic bacteria and mould that can survive and multiply on untreated surfaces.
Watch How COVID-19 Spread Over a Single Sneeze to Multiple People
Related Posts