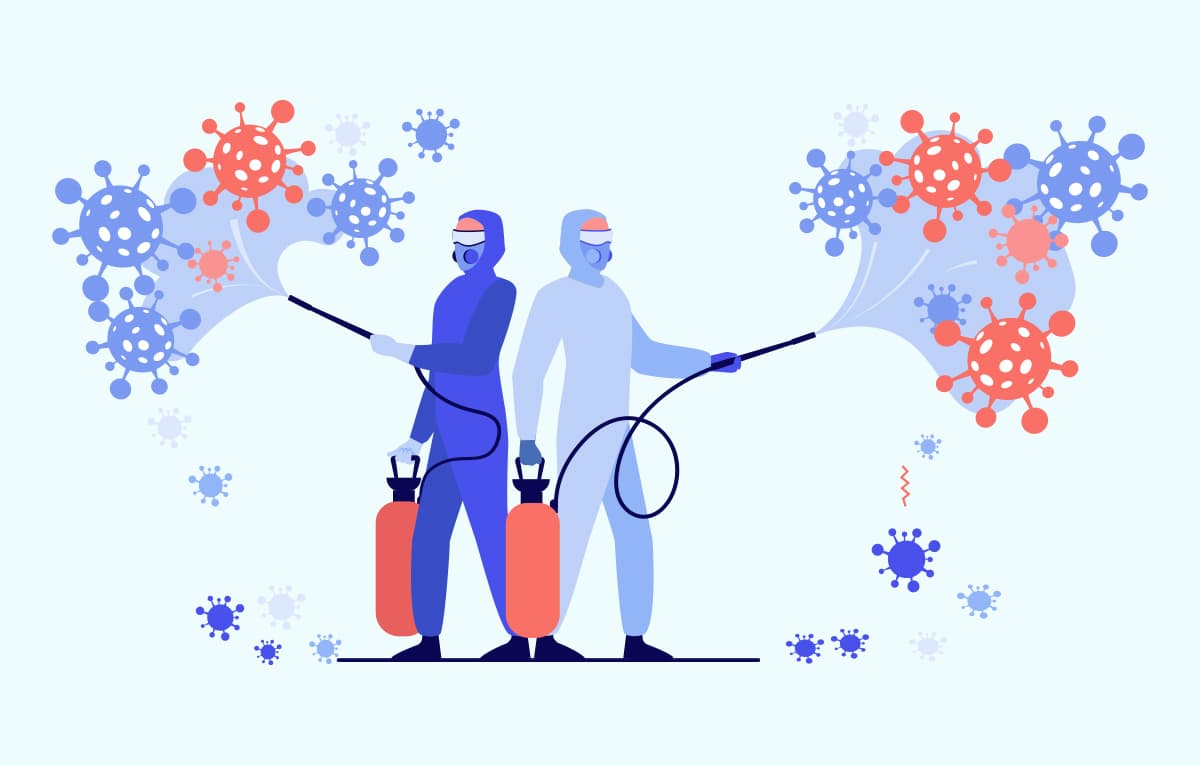 There are times when it is absolutely necessary to be sure that certain objects or surfaces are completely free of pathogenic organisms that could cause infection, illness and disease. Some obvious examples are within the healthcare sector, where the use of sterile instruments and equipment to avoid hospital-acquired infection is paramount. Of course, it is not possible to test each and every instrument for sterility before use and therefore sterilisation and disinfection professionals utilise a simple method of assurance based on susceptibility.
The Hierarchy of Susceptibility
It is well understood that in nature, some microorganisms are harder to kill than others, whether by heat or by chemicals. Based on their difficulty to be killed and eliminated, it is, therefore, possible to rank microorganisms in a hierarchy of being susceptible to certain sterilisation or disinfection procedures, in the language of microbiology this is known as 'The Hierarchy of Susceptibility' and is illustrated in the graphic below.
As indicated above, it can be seen that bacterial spores from the Bacillus and Clostridium species and protozoan cysts from the Cryptosporidium species sit at the very top of this hierarchy in being the most resilient and resistant to either heat or chemicals and are therefore the most difficult to kill. Conversely, it can be seen that enveloped viruses such as the Coronavirus, Distemper, Herpes and Influenza sit at the very bottom of this hierarchy and are therefore the least resilient to heat or chemical treatments and thus, are the most susceptible to treatment and therefore the easiest to kill.
Quality Assurance of Disinfection/Sterilisation Based on the Hierarchy of Susceptibility
It is both logical and rational to deduce that if a particular disinfection or sterilisation regime can effectively kill and eliminate microorganisms in the top tier of the hierarchy of susceptibility then it is a given that all organisms in the lower levels will also be eradicated. This logical assumption is also backed up by empirical science and forms the backbone of quality assurance in the sterilisation and sterile supply industry.
For example, in the healthcare industry the effective sterilisation of instruments and materials used in direct patient care is a critical factor in infection control. As such, the majority of re-usable surgical instruments are rendered sterile either by extreme heat in steam autoclaves or by prolonged exposure to a toxic gas such as ethylene oxide. However, healthcare professionals have quite rightly sought a means to reliably and effectively guarantee that the parameters needed for sterilisation (temperature, sterilant contact and time) have been reliably achieved. Since microorganisms are invisible to the naked eye, the major consideration in sterilisation is actually determining when an item can be considered sterile.
In the very early days of surgery a raw potato would be placed in a steriliser alongside a batch of surgical instruments being processed and afterwards would be examined to see if it was fully cooked! If it was, the load being processed was also deemed to have been exposed to sufficient heat to have been rendered sterile. These days, much more sophisticated approaches are employed with the efficacy of the sterilisation process being monitored and assured by using biological indicators such as bacterial spores.
Biological indicators are considered to be the 'Gold Standard' of assurance because they actually test a sterilisers ability to eliminate specific strains of highly resistant organisms. For example, steam autoclaves are tested with Geobacillus stearothermophilus spores, while ethylene oxide gas, dry heat and gas plasma sterilisation processes are tested with Bacillus atrophaeus spores. It is then an empirically tested assumption that if the process being was capable of killing these highly resilient organisms, it was going to effectively kill any other type of organism which by default would be located further down the hierarchy of susceptibility than the chosen biological indicators.
Similarly, if a chemical disinfectant can be reliable tested to kill and eliminate organisms at the peak of the hierarchy, then it is a given that it will effectively and totally eradicate all organisms on the lower tiers of the hierarchy. To put this in context, if a chemical disinfectant were to be tested under laboratory conditions and unequivocally proven to be totally effective in killing bacterial spores, protozoan cysts, mycobacteria and non-enveloped viruses, then it would be a scientifically proven given that the same disinfectant would kill fungi, vegetative bacteria and enveloped viruses even more effectively.
Of particular significance under the prevailing circumstances, it can be seen that all strains of the Coronavirus such as Covid-19 and all other enveloped viruses sit at the very base of the susceptibility hierarchy; this is why simple hand washing is such an effective and highly recommended means of infection control for Covid-19. Similarly, it also means that any proprietary sanitising and disinfection agents proven to kill microorganisms further up the susceptibility hierarchy can be unequivocally trusted, by default to also kill the Covid-19 virus.
Related Posts