Now more than ever, it's important to implement proactive measures to reduce the spread of germs in your premises.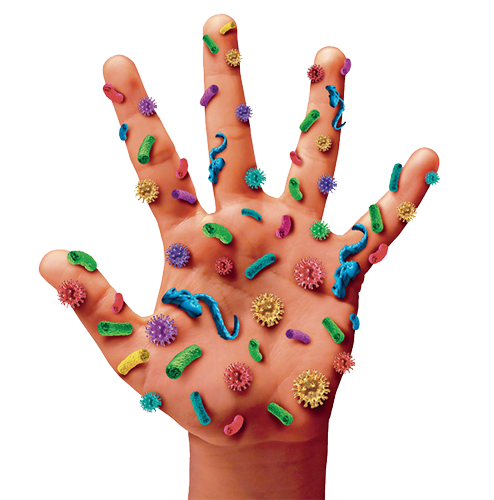 Keep your Patient Care Areas Safe & Hygienic
Every day we come into contact with germs including pathogenic bacteria and viruses. Practically everything we touch is certain to have germs on it, some harmless and some not. Pathogens can cause severe illnesses and are easily contracted from surfaces that aren't adequately cleaned and disinfected on a regular basis. More notable these days are highly contagious pathogenic viruses such as COVID-19 which has an extremely high propensity to spread to large numbers of people via contaminated surfaces and re-infect large numbers of other people.
The Problem: Conventional chemical disinfectants can, to a certain extent, kill and reduce the number of pathogens present, however once the solution dries, any new pathogenic microorganisms re-introduced or not previously killed by the chemical disinfectant can survive and proliferate quickly returning to unsafe, unhygienic levels.
Reduce the Risk of Cross Contamination
With more pressure to turnover "clean and hygienic" clinical spaces after each patient treatment quickly, as well as optimising patient throughput and revenues, the need for speed and efficiency is increasing. As patients flow through clinical spaces every day, there is an inherent risk of cross-contamination in high traffic outpatient areas as well as lower volume inpatient care areas.
The risk of cross-contamination and nosocomial infection is increased significantly by the potential, when under pressure, for missed or inadequate "cleaning" to occur. This dilemma presents a compelling need for enhanced cleaning protocols and more specifically a regimen of disinfection and enduring antimicrobial surface protection.
High Touch Surfaces for Patient Care Areas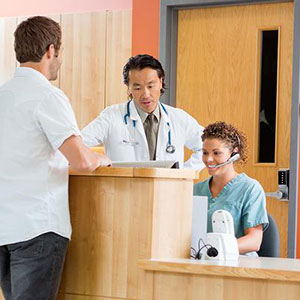 Reception Areas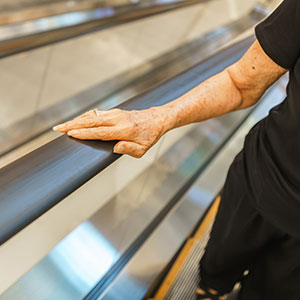 Stairs/Escalator Railings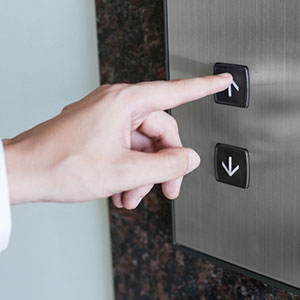 Lifts/Lift Buttons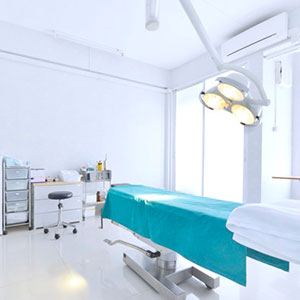 Operating Theatres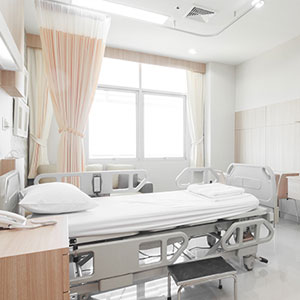 Patient Beds
Benefits of BRShield Application
Inhibits the growth of bacteria, fungus and inactivates viruses
Reduce Cross Contamination
Prevents the formation of biofilm
Applicable to virtually all surfaces
Does not rub off to transfer onto the skin
Uses EPA-Registered Technologies
Eliminates objectionable odors
No arsenic, tin, heavy metals, or polychlorinated phenols
Peace of mind for customers
Continuous Self-Disinfecting Antimicrobial Coating Surface
Traditional chemical surface disinfectants have not only proven ineffective, they have actually exacerbated this microbial problem by helping the creation and adaptation of 'superbugs' which have become resistant to traditional cleaners and sanitizers.
The Solution: The BR Shield system modifies the surfaces, providing treated surfaces with both immediate disinfection and durable, antimicrobial protection for up to 6 months which can inactivate viruses, kill and inhibit the proliferation of pathogenic bacteria and mold that can survive and even multiply on untreated surfaces.
The Technology behind BR Shield Coating
BR Shield is a reactive saline quaternary ammonium compound, which provides permanent antiviral and antimicrobial coatings to any surface it is applied to. This eliminates the risk of cross contamination and the subsequent spread of pathogenic organisms from one person to another.
Therefore, this precludes the transfer of the COVID-19 virus via its most common route of transmission and subsequent infection, from one person to another via a contaminated surface.
How to measure the activity of BRShield antimicrobial coating
Total Plate Count (TPC) is intended to evaluate the level of microorganisms on any surface. After the swab sample has been collected, it is transferred to the suitable medium (agar) and incubated under controlled conditions in the laboratory.
The number of microbial colonies that appear on the medium (agar) is used as an indicator test to determine the microbial level on the surface. TPC is expressed as 'colony-forming units per centimetre square' (CFU/cm2).
There is a correlation between the logarithmic reduction and the percentage of reduction in the bacteria.
Decrease of 1 Log → Reduction of 90% in the number of bacteria
Decrease of 2 Logs → Reduction of 99% in the number of bacteria
Decrease of 3 Logs → Reduction of 99.9% in the number of bacteria
Decrease of 4 Logs → Reduction of 99.99% in the number of bacteria
Decrease of 5 Logs → Reduction of 99.999% in the number of bacteria
Decrease of 6 Logs → Reduction of 99.9999% in the number of bacteria
BRShield Antimicrobial Surface Coating Represents Breakthrough in the Control and Spread of Infectious Diseases
Wet Method Test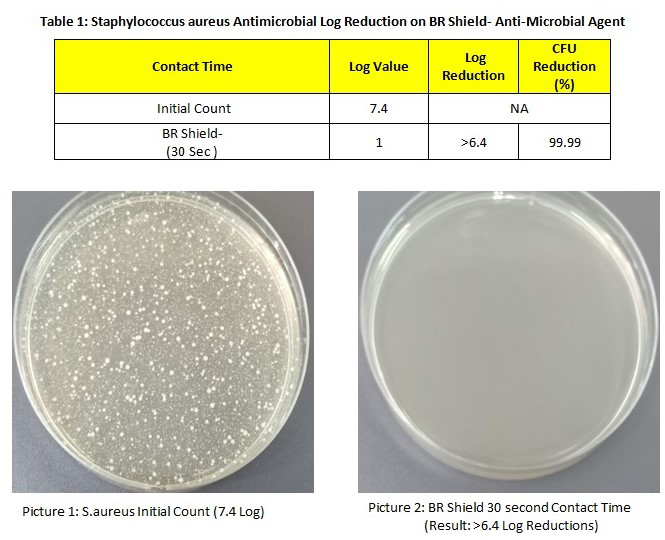 Dry Method Test for 6 months continuously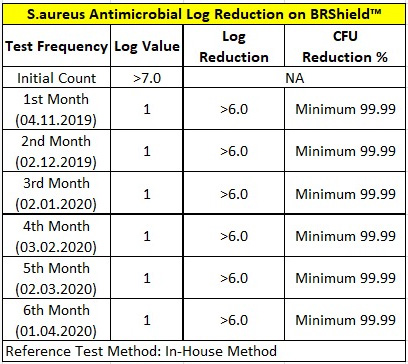 Test report available upon request